Estimated read time: 3-4 minutes
This archived news story is available only for your personal, non-commercial use. Information in the story may be outdated or superseded by additional information. Reading or replaying the story in its archived form does not constitute a republication of the story.
SALT LAKE CITY (AP/KSL News) -- A railcar leaking acid forced the closure of major highways and the evacuation of more than 8,000 people.
By late Sunday, about 5,000 of the 13,000 gallons of industrial waste had leaked into the ground, but South Salt Lake fire officials were hoping to pump out the rest within a few hours. Late Sunday night, the mandatory evacuation was ended.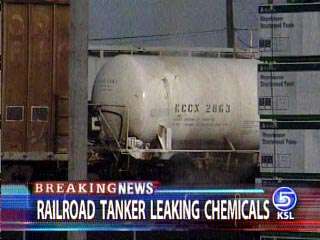 There were no injuries, but the area downwind of the leak was evacuated because of fumes from the spill, Fire Chief Steve Foote said. Evacuation centers were set up at church meeting houses, but most of those evacuated were staying with friends or relatives.
The waste, eventually found to be hydrochloric, hydrofluoric, nitric and sulfuric acids, was discovered leaking about 6 a.m. and the tanker wall was becoming soft, Foote said Sunday night.
Officials brought in 6,500-gallon portable tank.
They first planned to lift a hazmat technician in a cherry picker to the top of the tanker so he could attach a hose to the rail tanker and pump the acids into the portable tanks.
But the nasty brew of chemicals proved to be a tough problem. Tiny leaks eroded into big ones. The acids were quickly eating away at the tank itself.
Chief Steve Foote, South Salt Lake Fire Dept.: "It's just bubbling, like big blisters along the side of that tank.and this is not blisters caused by paint, it's not the paint blistering, it's the actual metal itself"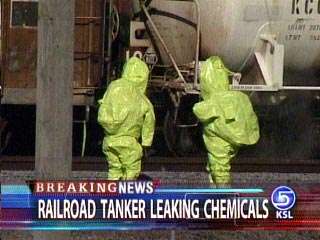 Experts judged it too dangerous for crews to move in close. So they switched to Plan B: waiting for the tank to break wide open and spill the contents on the ground, possibly creating more unpredictable chemical reactions.
Chief Steve Foote, South Salt Lake Fire Dept.:: "The possibility of a toxic plume being set through the area is high."
As evening temperatures cooled, chemical reactions eased up. Officials reverted to a modified Plan A: Punching a hole in the tank and installing a drain hose.
"Once we have one tank that's filled and holding, we could lift the evacuation order," Foote said.
The cherry-picker plan was being kept in mind as a backup.
Chief Steve Foote, South Salt Lake Fire Dept.: "We've seen a little bit of stabilization to the tank. But we are pushing the envelope a little bit with this."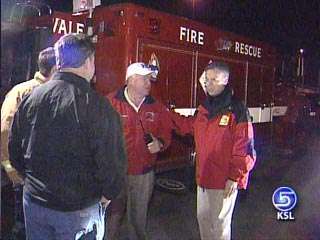 Governor Jon Huntsman showed up to thank the response team. Even 15 hours into the incident, they weren't sure exactly what's in the tank. Fire officials say an industrial waste disposal firm provided confusing information.
Gov. Jon Huntsman, Jr.: "Yes, it troubles me. We're going to find out exactly why there was a miscommunication. We're going to follow up and straighten it out."
The leak was discovered while crews were loading chemicals into the parked railcar at a Union Pacific rail yard. Officials said the tanker car was owned by Kennecott Utah Copper and was sublet to Phillips Environmental, which could not tell them immediately what all was in the waste.
"We're going to be looking into that," Foote said. "When we ask a direct question, we expect a direct answer."
Eventually, tests determined what acids were in the waste, and Phillips Environmental provided verbal confirmation. Documents finally were delivered late Sunday.
The spilled acid has not yet been neutralized. Foote said authorities wanted to concentrate on the tanker first.
Officers closed 600 West from 2100 South to 2700 South. Northbound I-15 from 4500 South to 2100 South, the westbound I-80 off ramp to southbound I-15, and the southbound collector on I-15 up to westbound I-80 also were closed.
The area south and east of the rail yard was evacuated. A little less than one square mile recommended for evacuation, with less than half of that a mandatory evacuation area.
The acids were not full strength but still are highly toxic and can cause severe burns if they come in direct contact with the skin or eyes, and the fumes can cause respiratory problems.
In the worst-case scenario, exposure to hydrochloric acid can cause circulatory collapse, which may lead to death. Minor problems include nausea, vomiting and dehydration. Nitric acid can burn the eyes, skin and nose.
(The Associated Press contributed to this story)
×
Most recent Utah stories