Estimated read time: 2-3 minutes
This archived news story is available only for your personal, non-commercial use. Information in the story may be outdated or superseded by additional information. Reading or replaying the story in its archived form does not constitute a republication of the story.
Tonya Papanikolas reporting The chemicals leaking from the tanker car are potentially very toxic, and an estimated 8-thousand people were forced to evacuate their homes for a time Sunday.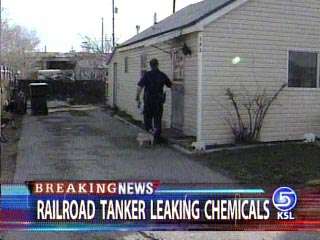 Officers from the South Salt Lake Police Department went door to door today, telling people in homes and businesses to leave.
"We're gonna need you to evacuate for at least the next few hours."
The officers split up the mandatory evacuation area to make sure everyone got the news. They even talked to people pulling up in their cars.
"We're doing a mandatory evacuation in this area for your safety."
"I can go up to my other son's place. Okay. Just let me get my dog and my diabetic medication, and then I'll leave."
Some people, like Charlie Kone, grabbed her animals before going.
Charlie Kone, Evacuated: Everything living, yeah. I don't know what it's about. I guess we'll just have to watch the news."
Others took just necessities.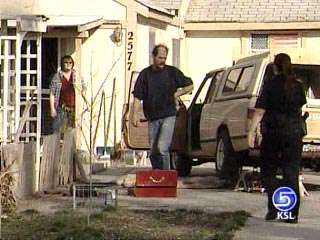 Bobbie Yachuw, Evacuated: "My purse, my water and my car."
Gary Paetsch, Evacuated from Business: "Just the car and the debit card. That's about all."
Paul Dipo: "Something to do and my clothes for work."
Some thought the spill was a little disconcerting. They didn't want to know the consequences of staying.
Gary Paetsch: I'm not going to hang around to find out. So we're gonna leave for a couple hours like they've requested us to."
Others said they knew they were safe. The next thought was just where they would go.
Paul Dip, Evacuated: I guess my grandparent's house."
Emily LeMay, Evacuated: "I'm waiting for my grandson. He's got the car. And I'm not taking anything. I just hope I can be back in a few hours."
For those who didn't want to impose on friends or relatives, the Red Cross set up shelters across town.
Mariann Geyer, American Red Cross: : "Just giving them comfort, giving them peace of mind, that they have someplace to be."
Gerald Walsh was the first to show up.
Gerald Walsh: I'm here till they tell me I can leave."
×
Most recent Utah stories