Estimated read time: 2-3 minutes
This archived news story is available only for your personal, non-commercial use. Information in the story may be outdated or superseded by additional information. Reading or replaying the story in its archived form does not constitute a republication of the story.
Debbie Dujanovic reporting Chemical leaks, groundwater contamination, fines and court orders. Our investigative team uncovers a long list of trouble involving the company that filled the tanker.
While officials sort out the chemical combination on that rail car in South Salt Lake, we spent the day sorting through public documents. Now, we follow Philips' hazardous waste track record.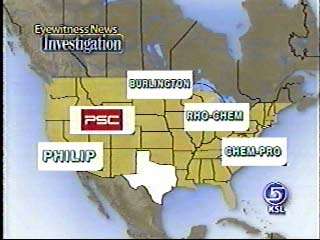 Philip Services Corporation is based in Texas. It operates in several states under many names including: Philip, PSC, Burlington, Rho-chem, Chem-pro.
We found: Philip Services declared bankruptcy two years ago.
Last year the company found itself at odds with the U.S. Justice Department. Philip tried to stick taxpayers with millions of dollars in cleanup costs of contaminated sites. The Justice Department won that battle, the company must pay cleanup costs.
In California, the EPA and local regulators took Philip Services to court for shoddy record keeping, and storing unauthorized levels of contaminated waste.
The company failed to document nine different shipments of waste. Two fines in two years in California: a total of $32-thousand.
The stakes were higher in Washington. State and Federal regulators there slapped the company with a million dollar fine in 2001, for repeatedly mis-managing dangerous wastes at several facilities. Contamination reached an underground aquifer in one community.
In other charges against Philip Services: Washington State officials discovered incompatible wastes were stored too close, increasing the possibility of a chemical reaction. Some employees were not properly trained to handle dangerous waste. The company's emergency response plans were inadequate.
Late today a spokeswoman responded to our inquiries. The company went through bankruptcy, and is under new ownership. She says when you handle a waste company, you inherit a legacy.. it buys you troubles from the past.
Her pledge: the new owners have the highest standards and will issue a report on the South Salt Lake spill.
×
Most recent Utah stories