Estimated read time: 2-3 minutes
This archived news story is available only for your personal, non-commercial use. Information in the story may be outdated or superseded by additional information. Reading or replaying the story in its archived form does not constitute a republication of the story.
John Daley ReportingSunday's toxic train spill spotlights an on-going post –9/11 debate between public safety and national security. Terrorism fears have prompted a federal proposal to remove identifying placards from all tanker cars. But firefighters and emergency officials are extremely skeptical. They say Sunday's accident shows all too well why that's not a good idea.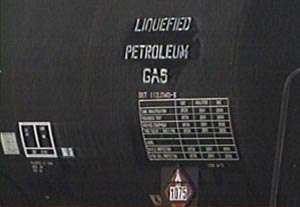 Each year thousands of tanker cars filled with untold millions of tons of toxic materials traverse the nation. Many, like the one here which sprung a series of leaks, visit Utah, the crossroads of the West. Diamond-shaped placards identify what each is carrying. Emergency crews are able to quickly check the placards, as they did Sunday, to see what they were dealing with.
Steve Foote, South Salt Lake Fire Chief: "When we roll up on a HAZ-MAT incident, we normally use binoculars or spotting scopes. That's what we're looking for; we're looking for that placard. It was placarded. It was corrosive. That gives us a good starting point. Ok, we're dealing with corrosives, not poisons."
After 9/11 authorities began re-examining virtually every part of our transportation-dependent society, including rail traffic. Now federal officials are considering removing placards from all tank cars.
We were unable to reach a Homeland Security spokesman, but one recently told the New York Times, "It gives our adversaries too much of a picture of what our vulnerabilities are."
But state environmental officials who oversee rail spills worry that losing the placards could spell trouble.
Dennis Downs, Director, Division of Solid and Hazardous Waste: "Those placards are critical to the management of the material that's in those vehicles or those train cars. And if the public safety folks don't have a clue of what's in there, they've got a real problem on their hands."
UDOT handles a similar system for trucks.
Rick Clasby, UDOT, Director of Motor Carrier Division: "From our perspective, we're more comfortable knowing what's in the vehicle."
Steve Foote, South Salt Lake Fire Chief: "Removal of that stuff turns into a bigger guessing game, because it takes time to get manifests, it takes time to get people that say this is what's in there. If they want to go to a different coding system that may be more secure, maybe that's something else. But I don't think we can completely remove that kind of stuff."
As we reported yesterday, there is no state agency and no federal agency that tracks tanker cars as they travel around the country. Any new system regarding placards would presumably also need to address the larger issues regarding the transport of hazardous materials around the country.
×
Most recent Utah stories