Estimated read time: 2-3 minutes
This archived news story is available only for your personal, non-commercial use. Information in the story may be outdated or superseded by additional information. Reading or replaying the story in its archived form does not constitute a republication of the story.
Sam Penrod Reporting"I just talked to her about her baby and told her she needed to change her life and took her to the police station."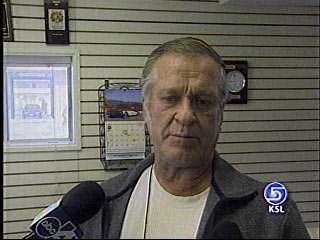 A Good Samaritan finds the mother who abandoned her baby at the homeless shelter. But that doesn't give the woman's story a happy ending. Bobbi Joe Ramirez was found in downtown Salt Lake this morning. Her four-month old baby remains in state custody. It turns out the woman has given birth to seven children, and has custody of none of them.
An emergency court hearing was held this afternoon, where a judge ordered the baby be kept in state custody. We also learned the mother has a long history of drug abuse and today was checked into a drug treatment program.
It was on a downtown street that Doug Robinson saw a woman sitting on the curb, crying at seven this morning. He stopped to see if she needed help and discovered it was Bobbi Joe Rameriz, the same woman he heard about on the news, wanted for abandoning her baby.
Douglas Robinson, Found Woman: "She said she missed it, she got scared and left, she was quite upset."
Robinson took Rameriz for some breakfast where he convinced her to turn herself into police.
Douglas Robinson, Found Woman: "I talked to her about getting into rehab straightening up and maybe getting her baby back."
Authorities say Rameriz has a long history of drug abuse, and because of that her parental rights to four of her children were terminated in Arizona. Rameriz also lost two babies who died at childbirth.
Family members of Rameriz say she came to Salt Lake only a week ago, trying to get clean from drugs. Sadly it appears her baby is addicted to drugs as well but is said to be thriving in a foster home.
Carol Sisco, Dept. Of Human Services: "The little girl is doing really well in the shelter home; she's smiling, she's happy, seems to be okay. We're going to, in the next day or two, get her in for drug tests and a physical."
Doug Robinson hopes that Rameriz will change her life around and that her baby will always be in a good home.
Douglas Robinson, Found Woman: "She's only 31-years old, she's got plenty of time to change her life around. They get on those drugs, they just go. She just needs to get off of it."
Rameriz is not in police custody because there is no criminal case against her. Her cousin is trying to get custody of the baby. That will be decided in court here in two weeks.
×
Most recent Utah stories