Estimated read time: 2-3 minutes
This archived news story is available only for your personal, non-commercial use. Information in the story may be outdated or superseded by additional information. Reading or replaying the story in its archived form does not constitute a republication of the story.
Ed Yeates ReportingThere was a 100-year anniversary in Utah today, one that took Ed Yeates to some rather obscure vaults. Those vaults store a century of records that document our births, our deaths, and more.
Behind the walls at the State Health Department two significant vaults that as of today now contain 100 years of documentation that really sort of profile the pathology of everybody who comes and goes in this state.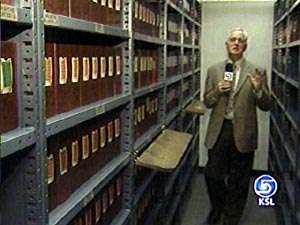 A lot of people came here to celebrate, including the director of the National Center for Health Statistics, who commended Utah for one of the most complete health record systems in the country. There were other special guests here as well on both sides of the age scale.
Fern Lois Robison: "I never take pills, and now they say you have to."
First Lady Mary Kaye Huntsman presented special historical certificates to Helen Louise Nicholson, Fern Lois Robison and Antonetta (Nettie) Rynsburger -- all Centenarians who were among the first to have their records stored here 100 years ago. They and everybody else now simply live longer.
Antonetta (Nettie) Rynsburger: "Hard work and exercise. I still exercise on the floor."
In vaults that were never needed back in 1905 irreplaceable documents are protected from thieves and fire. One hundred years of records, extremely significant in the hands of researchers trying to track emerging diseases. But in the hands of someone trying to steal your identity - disastrous.
They read obituaries daily and before the vital statistics office even learns about the death...
Dr. Barry Nangle, Director, Utah Center for Health Data: "They try to apply for a birth certificate and steal the recently deceased identity. They get credit cards, they get other IDs."
Thus the need for vaults now, and complete identity verification at this counter before anyone can see the records. Births, deaths, marriages, divorces, adoptions - the documents are all here, well preserved and hopefully well protected.
One hundred years ago people were dying from Tuberculosis and Typhoid Fever. Now it's heart disease, cancer and injuries. Infectious diseases are not as threatening anymore. And the survivability of newborns has skyrocketed.
×
Most recent Utah stories