Estimated read time: 2-3 minutes
This archived news story is available only for your personal, non-commercial use. Information in the story may be outdated or superseded by additional information. Reading or replaying the story in its archived form does not constitute a republication of the story.
Alex Cabrero Reporting"They're very disappointed a store like this can be so close to our school, and they're concerned for their children's safety."
Many students who go to Jackson Elementary walk to school, and now parents are upset what they may be walking past. Parents are wondering how an adult store is allowed to open so close to a school.
According to zoning ordinances, however, Blue Boutique isn't considered a sexually oriented business. Parents had a lot of questions going into a meeting Wednesday, but came out knowing what they want may not happen. It seems the Blue Boutique store opening just a block away isn't against the law.
If given a choice, Susana Arguello would rather speak to her daughter in Spanish. But what her daughter will be walking by on the way to school, well, she doesn't have a choice.
Susana Arguello, Parent: "I have a kid and I'm worried about that."
A big pink building on the corner, just a block away from Jackson Elementary, is what's causing so much worry.
Susana Arguello: "About the morality."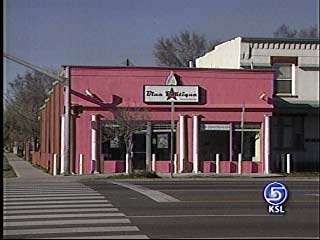 Morality, simply because the owner of this building is turning it into a Blue Boutique store, a business already established in Salt Lake and well known for its adult clothes, games, and toys.
Tiffany Sandberg: "It's just so ridiculous."
Tiffany Sandberg first found out about the store last Friday, and tonight organized a meeting for parents to talk about it.
Bart Phillips, Lives Near School: "There's a lot of young families and it seems just like it's the wrong location."
Judy Summers, School Employee: "It's the kids, my fear is for the kids."
Ines Montgomery, School Employee: "My biggest worry is somebody else can go into the store and buy something and give it to those kids."
The concerned parents even had a representative from the city's business licensing division to talk about zoning laws.
But in the end, parents learned it may be a bigger fight than they thought.
Tiffany Sandberg: "I know the store is legal. At this point we're not finding anything that makes it illegal."
Sandberg is seeing if there's still a way to keep the store from opening.
We called Blue Boutique to speak to a manager about being so close to a school, and even though they spoke to us on Saturday when we first did this story, they didn't return our call today.
×
Most recent Utah stories