Estimated read time: 2-3 minutes
This archived news story is available only for your personal, non-commercial use. Information in the story may be outdated or superseded by additional information. Reading or replaying the story in its archived form does not constitute a republication of the story.
John Hollenhorst reporting Measurements today confirmed what experts have known for weeks: The snowpack in Southwestern Utah is astounding, and flooding is virtually certain.
Randy Julander, Snow Surveyor: "It's so far ahead of 1983 it's not even funny."
What really makes the snowpack unusual and threatening is the high water content. Experts say they've never seen anything like it.
In January, they had a pretty good snowpack going already. But in the last few weeks, several big and very warm storms rolled across California and Arizona. That created a dense, watery snow that's now perched in the high-country and ready to go.
When Natalie Butler emerges from her wintry den, she saw her own shadow. But winter isn't over yet.
Natalie Butler, Duck Creek employee: "I'm tired of it, I really am."
In Duck Creek, a front porch can look like a cave, and a maze-like walkway reminds you of a rat in a psychology experiment.
Jerry Koller, Duck Creek Realty: "It's been incredible. This is the heaviest wettest snow I can remember and I've been here 30 years."
Even snow survey experts think it's incredible.
When the numbers came in by radio from remote instruments, they thought something was wrong with their equipment.
In the woods you really can't tell how deep the snow is. An instrument shelter for the snow survey is 16 feet high, and it is almost entirely buried."
But it's the water content that's ominous. Lynn Kitchen couldn't even weigh a tube full of snow the normal way.
Lynn Kitchen, snow surveyor: "We've maxed out the scale."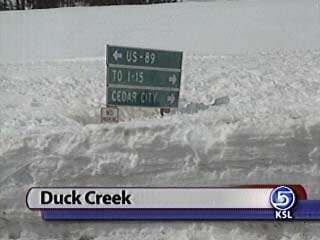 It's by far the most water ever measured here, the equivalent of 58-and-a-half inches. The old record was 51-and-a-half.
Randy Julander, Snow Surveyor: "To break it by that far is just absolutely astounding.
It's like having a lake almost five feet deep covering nearly the entire plateau.
Randy Julander, Snow Surveyor: "If we melted this snow, we'd be in the deep end of the swimming pool right now."
When it does melt, it can't soak in.
Randy Julander, Snow Surveyor: "The bathtub is essentially full. The soil moisture values here are off the chart."
That means rivers and streams all across Southern Utah will be full. And then some.
Randy Julander, Snow Surveyor: "There are going to be a lot of places where water is out of the stream banks."
It's an irony, of course: Too much water after so many years of drought.
Which is why folks at Duck Creek look at the good side.
Natalie Butler, Duck Creek employee: "It is good. We needed the moisture. And we really are getting a lot of moisture from it this year."
They can't predict right now how much damage the flooding might do. It depends on how fast it melts and whether it gets supercharged by big rainstorms.
No one knows if the flooding will be bad. But everyone in Southwestern Utah should know it's coming.
×
Most recent Utah stories