Estimated read time: 3-4 minutes
This archived news story is available only for your personal, non-commercial use. Information in the story may be outdated or superseded by additional information. Reading or replaying the story in its archived form does not constitute a republication of the story.
Ed Yeates reporting A three-year-old Idaho boy is on his way home, cured of an extremely rare disease that people in less enlightened times condemned as a sign of evil.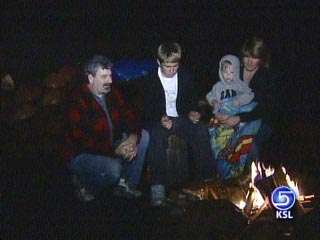 We were here almost four months ago, when Nicholas Ashby arrived at Primary Children's. Now, after all these many nights and days, he's a rebuilt boy with a whole new world in store.
Five months ago, everything was backwards at Nick's home in Orofino, Idaho. Blinds were opened at night! Nighttime bonfires were the rule not the exception.
During the day, any sun would burn Nick's skin immediately. Deep, penetrating blisters would bubble and burst. The boy was anemic and seldom talked to anyone. Excessive hair was beginning to grow on his body.
A long, long time ago, people like Nick were labeled possessed - wolves of the night.
But that was then!
"It's gone and we're going home. We're going fishing."
Fishing, playing, doing almost anything he wants - not in nighttime shadows - but in sunlight with everybody else.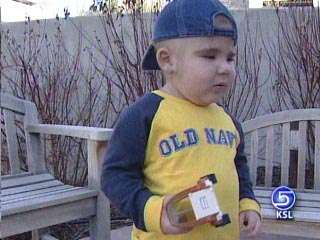 Nick has now been cured of what is called Congenital erythropoietic porphyria. Less than 200 in the world have been reported with this very rare form of the disease.
Michael Pulsipher, M.D./Transplant Program, P.C.M.C.:"So at least for the first year, and it's good advice for the rest of his life, that if he is going to be out in the sun for a long time, he should have a good sunscreen on. But aside from that, he can be playing outside and have a good time.
Having a good time is exactly what he's doing now, making up for lost time. Physicians replaced Nick's own bone marrow with new donor cells last November. Though the transplant was risky - it's working.
Mary Ann Mattson Nick's Mother: "It's really a hard disease, and it's very painful, and you don't realize how painful it is until you get to the other end."
Nick may look a little puffy, - but that's because he's on the steroid Prednisone. Excessive hair is growing as well, not from the disease, but the anti-rejection drug Cyclosporin he's taking also.
Over the next nine months, the boy will gradually be weaned from both drugs - eliminating these side effects.
Robert Ashby Nick's Birth Father: "You know, with what he's been through - hopefully he will write the book on saving other people that have this disease."
The blisters, the scars from the sun, have all disappeared. So has his anemia. And while Nick wouldn't say much before - listen to him now.
Ed Yeates: "Can you say Channel Five Eyewitness News?"
Nick: "Channel Five Eyewitness News."
Nick had hugs for his doctor, yours truly, almost everybody saying goodbye. His brother, his grandmother, the rest of his family - they'll be waiting in Idaho. And the first celebration…
Mary Ann Mattson Nick's Mother: "We're picking Mitchell straight up from school and we're going for a bonfire. First time our whole family has been together since November 15th."
Nick will still have to wear a mask now and then to protect him from infections. He'll also need checkups here at Primary about once a month. But that will all gradually taper off.
Nine months from now, we'll see him one more time.
×
Most recent Utah stories