Estimated read time: 2-3 minutes
This archived news story is available only for your personal, non-commercial use. Information in the story may be outdated or superseded by additional information. Reading or replaying the story in its archived form does not constitute a republication of the story.
SALT LAKE CITY (AP) -- Elizabeth Smart kidnapping suspect Brian David Mitchell was kicked out of court again Friday for breaking into song during a hearing to gauge his mental competency for trial.
Mitchell had already been removed from his last three hearings after singing religious hymns and Bible verses.
Friday's hearing was only minutes old when Mitchell reprised one of his favorites: "Repent for the kingdom of heaven's at hand." He sang the words at a February hearing, too.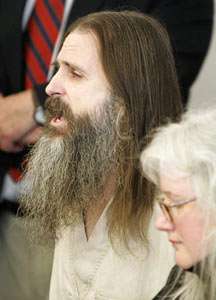 As he was led off Friday, Mitchell shouted, "He mocks and scorns the son of God. He mocks and scorns the son of God. ... You know I speak the truth. You know I speak the truth."
Judge Judith Atherton planned several breaks throughout Friday's proceedings so defense lawyers could brief Mitchell on testimony, though the lawyers have said Mitchell frequently ignores them.
After the judge ordered Mitchell escorted out, testimony resumed from defense expert Stephen Golding, who has said Mitchell has become increasingly more mentally disturbed and unfit for trial.
Golding said that if Mitchell goes to trial, the defendant has vowed that he won't let Elizabeth take the witness stand and that he would do everything possible to disrupt the proceedings.
"He will not permit you to question Miss Smart, because she is still his wife, and they will still be reunited," Golding said, paraphrasing Mitchell's statements.
Golding also testified that he doesn't believe Mitchell is being willful when he acts out in court.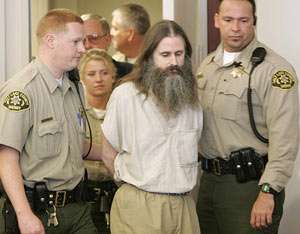 Mitchell, 51, and his wife, Wanda Barzee, 59, are charged with kidnapping, aggravated sexual assault, aggravated burglary and attempted aggravated kidnapping in the 2002 abduction. He's also charged in the attempted abduction of Elizabeth's cousin seven weeks after Elizabeth's kidnapping.
Mitchell reportedly believes he's a messenger of God, and allegedly kidnapped Elizabeth, then 14, to keep her as a second wife.
Barzee, who has filed for divorce, has been ruled incompetent to stand trial, and is being treated at a state facility. Prosecutors are seeking a hearing to force Barzee to take anti-psychotic medications that she refuses to take voluntarily. Her attorneys have vowed to fight the attempt.
Friday's testimony was also expected to include Noel Gardner, a mental health expert for the prosecution who has concluded the homeless street preacher is fit for trial.
At the hearing last month, Golding testified that Mitchell has "a long history of tension, which has gotten into the psychotic spectrum."
Defense expert Jennifer Skeem, a University of California-Irvine assistant professor, also said at the hearing that Mitchell had become "recently delusional and more distressed."
Mitchell's lawyers had previously suggested he was mentally sound enough to stand trial, but said they wanted additional evaluations because he was becoming increasingly unable to aid his own defense.
(Copyright 2005 by The Associated Press. All Rights Reserved.)
×
Most recent Utah stories