Estimated read time: 2-3 minutes
This archived news story is available only for your personal, non-commercial use. Information in the story may be outdated or superseded by additional information. Reading or replaying the story in its archived form does not constitute a republication of the story.
Alex Cabrero ReportingHere in Salt Lake, news of the Atlanta courthouse shootings reminded a lot of people of a similar incident 20 years ago. It was a day that changed Salt Lake's courthouse security.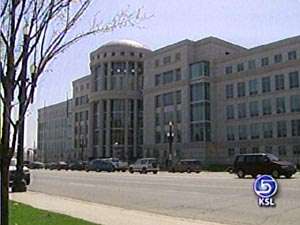 The security at Matheson Courthouse is considered pretty tight; it was constructed to be that way, partly because of what happened at the Metropolitan Hall of Justice in April 1985.
In any judges career there are days that just stick with you. For retired judge Raymond Uno, that day is April 2, 1985.
Raymond Uno, Retired Judge: "Everybody was told to stay where you're at. Don't come out."
...because if you did, you may have run into Ronnie Lee Gardner.
Raymond Uno: "We didn't know where he was going and how he was going, but we knew he was armed."
Gardner was a hand-cuffed prisoner being walked through the Metropolitan Hall of Justice, but his girlfriend was able to get him a gun. He ended up shooting a bailiff and an attorney, who later died, while running outside. Gardner was eventually shot by an officer, surrounded, and gave up.
The suspect in today's Atlanta courthouse shootings is still on the run, leaving three dead and one injured behind him.
Raymond Uno: "It's a real tragic and sad thing. And when I heard about it, I thought, 'Gee, that's something that should have never happened.'"
Sheriff Aaron Kennard: "I think if that happened here, the individual would not have made it out of the building."
Salt Lake County sheriff Aaron Kennard checked out Matheson cCurthouse himself this morning, just to make sure security was tip-top.
Sheriff Kennard: "We're prepared. If something like this were to happen, hopefully we would have it well under control."
Hopefully. But every once in awhile, we're all reminded how fast it can all go wrong.
Raymond Uno: "I think after today they'll be a lot more secure. But it's kind of a dangerous thing not only for judges and court personnel, but for the public."
Judge Uno also shared a couple of stories with us where prisoners have tried to run out of his courtroom, but they were caught each time. He also says security is a tough job because you have to be perfect 100-percent of the time.
×
Most recent Utah stories