Estimated read time: 2-3 minutes
This archived news story is available only for your personal, non-commercial use. Information in the story may be outdated or superseded by additional information. Reading or replaying the story in its archived form does not constitute a republication of the story.
Kimberly Houk ReportingWith the weather warming up, consumer advocates are warning homeowners to be careful of scams. It generally happens when traveling groups of people approach homeowners with an offer to do yard work for money they want up front. In Clearfield a tree removal job cost the owners got more than they planned.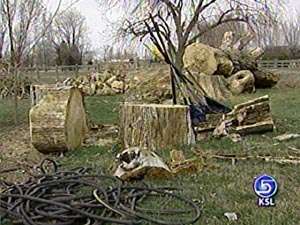 The family wanted a huge tree cut down, for $550 dollars. The tree was taken, but the workers also went inside the family's Rec Center and took what they wanted. Nancy Gardner is the latest victim in a warm weather scam.
Nancy Gardner, Victim of a Scam: "There used to be a great big box, and inside of the box there was like a three disc CD player, a mixer, an amplifier - all professional grade."
And now it's all gone, along with the family's tools.
Nancy Gardner, Burglary Victim: "They did leave a few items in some of the drawers. You can see there's a few things in this drawer that aren't worth too much, but you can see a lot of these drawers are empty."
Five-thousand dollars worth of stuff was taken, all because she agreed to let three guys who knocked on her door cut down the big tree in her backyard. She trusted them. Now she knows she was a victim of a scam that's been around forever.
Experts say when the temperature heats up the con artists hit the neighborhoods, offering to do yard work.
Francine Giani, Consumer Advocate: "We would encourage people to do their homework, especially this time of year, because these kinds of scams we see in the spring and in the summer, and in the early fall. The weather's good and people are out there trying to make a living ripping you off."
And Gardner says she made herself the perfect victim. She paid the workers more than $500 up front and let them know she wasn't going to be around.
Nancy Gardner: "I left to go to a grandson's school program, and I told them I would be gone for an hour."
When Nancy returned she saw the tree was down, but the guys were gone. About an hour later, she says she knew they weren't coming back.
Nancy Garder: "You just feel violated. You feel like you've worked very hard for the things you've acquired. You trust other people, and when it's gone, you just feel like you've really been taken advantage of. "
The suspects also left behind a huge mess. The Gardners know it's going to take some time to clean it up, but they've offered their neighbor some firewood if they'll come over and help them chop the tree up. [NO BOX]
×
Most recent Utah stories