Estimated read time: 2-3 minutes
This archived news story is available only for your personal, non-commercial use. Information in the story may be outdated or superseded by additional information. Reading or replaying the story in its archived form does not constitute a republication of the story.
Sandra Yi ReportingMike Williams: "As I walked out, the police officer was just 10 feet from our front door, basically trying to get the guy to drop the gun."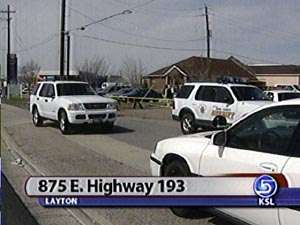 Police shoot a man after he threatens officers with a gun. It happened just after 10:00 this morning in East Layton. The man was shot in a business parking lot. The suspect was there, allegedly threatening his wife. His wife is a client of the Family Connection. It's a community resource center.
Workers locked the doors -- when they heard the suspect yelling outside. Then things really got heated.
Mike Williams: "I was just headed out to an appointment. I heard yelling outside. I opened the door to see what it was."
Mike Williams works next to the Family Connection. He nearly walked into the line of fire.
Mike Williams: "Yeah, if I had walked out two minutes later it could have been a different story."
Police say the suspect had a loaded handgun. This morning he showed up to the community resource center. Witnesses heard him threaten to shoot his wife who was inside. When officers arrived the suspect was getting into a white minivan. But then he put the gun to his head and walked toward two officers, standing about 50 feet away. The suspect refused to stop.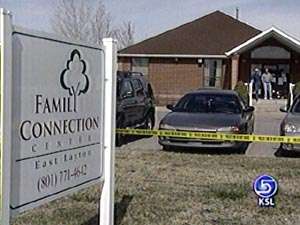 Mike Williams: "He was holding the gun to his head, so he pretty much, walking towards our building, seemed distraught, yelling back at the officers, not responding to their commands. You could hear them telling him to drop the gun."
Terry Keefe, Layton Police Chief: "As he got closer to the officers, he lowered the gun from his head and pointed to one of the two officers on the scene."
The officers fired three rounds. The suspect was hit once in the torso.
Mike Williams: "It was very loud, sounded like the fourth of July, with multiple gun shots going off."
Terry Keefe: "Rather than dropping the gun, he continues to point the gun at the officer and approach on the officer's position. So I consider him to be a serious threat, not only to the safety of the officers, but anybody who may have been in the parking lot."
The shooting startled Mike Williams. He's still in disbelief.
Mike Williams: "Luckily I didn't have any customers in the shop at the time."
The suspect is expected to survive. No one else was hurt.
The two officers involved in the shooting are on paid administrative leave. That's routine in a shooting like this.
×
Most recent Utah stories