Estimated read time: 2-3 minutes
This archived news story is available only for your personal, non-commercial use. Information in the story may be outdated or superseded by additional information. Reading or replaying the story in its archived form does not constitute a republication of the story.
Sam Penrod ReportingTeachers at a Head Start school in Provo are picking up the pieces after vandals destroyed two classrooms, causing more than $50,000 in damage.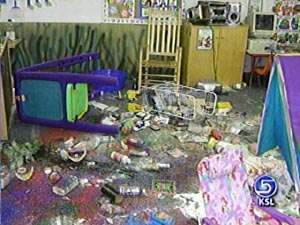 The damage from the vandalism is almost unbelievable. What makes it worse is that police say the vandals are two boys, ages 13 and an eleven. Now 24 young children have nowhere to go to school.
There's not much left of Diane Watkins' teaching supplies, much of it was her own property that she used to teach three and four-year-olds in Provo's Head Start program.
Diane Watkins: "I can't even tell you how badly I feel."
Early Sunday morning the Headstart classroom had paint and glue poured onto the floor and all kinds of property smashed.
Melody Pedersen, Executive Coordinator, Mountainland Head Start: "Everything they could break, they broke, the children's toys the furniture, the microwaves, computer systems, everything. They smashed holes in the walls holes in the doors."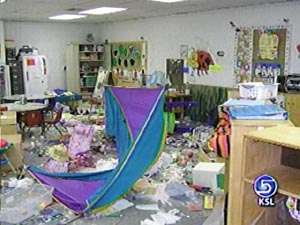 But it was when the vandals broke water pipes and plugged sinks that flooded the building, that caused major damage.
Merrill Wells, Mountainland Head Start: "They've had 40 fans in here and dehumidifiers trying to dry the building out. We're hoping there's not structural damage underneath."
For three days crews have been cleaning up the mess, ripping out the carpet and moving out anything salvageable. The real hardship is on the students' parents, many who rely on Head Start as a daycare program so they can attend college. It will be at least a week until the school can set up a temporary classroom and teachers can be ready for their students.
Diane Watkins: "I hope they caught who did this, and they realize what they did because it's, we're for low income families, as we only do good. And to have someone come in and do this is really sad."
Police say the two juveniles also hit an elementary school and a church at the same time, doing about five thousand dollars in damage in each location. The suspects have been released to their parents and will be tried through juvenile court.
×
Most recent Utah stories