Estimated read time: 2-3 minutes
This archived news story is available only for your personal, non-commercial use. Information in the story may be outdated or superseded by additional information. Reading or replaying the story in its archived form does not constitute a republication of the story.
Kim Johnson ReportingStudents at Lincoln Elementary affectionately call her the "Loot Lady." Three years ago Diane Fullerton, this year's recipient of the Huntsman Volunteer Award, opened a unique store. A store designed to meet some very real needs of children in our community.
The store is an incentives store where the only acceptable currency is loot, and loot must be earned.
Diane Fullerton, Creator, Loot Store: "Get your homework done, read a book, behaving in class, staying in your seat. It runs the gamut from coming to school, to getting your parents to an SEP."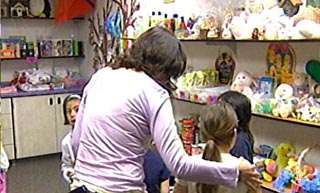 Once a month students get to spend the loot they've earned at the Loot store.
Diane Fullerton: "I sell a lot of school supplies just constantly because they're supplying their own. And many other things through the winter I sell a lot of blankets, mittens. We sell socks we sell under ware."
Fullerton says whenever students buy something they want, it's very often for someone in their family.
Diane Fullerton: "They are as thrilled, if not more so, to buy something for a new baby at home, as they are to get anything for themselves."
Just as all the goods are donated, Fullerton in turn donates all her time. Her payback, she says, is knowing her efforts are helping students and their families.
Diane Fullerton: "When kids come in and buy toothbrushes for everyone in the family, I know they must need one. So it's wonderful because I think for every need we have in this city we have someone who would meet it. We just hook them up together."
Her concept has already spread to seven elementary schools. The store at Roosevelt Elementary is one of two that opened just in the last month.
Fullerton, who's had inquiries nationwide, envisions a time when every title one school will have a loot store and a loot lady.
If you'd like to donate to the "Loot Store" email Diane at lootstore@comcast.net.
×
Most recent Utah stories