Estimated read time: 2-3 minutes
This archived news story is available only for your personal, non-commercial use. Information in the story may be outdated or superseded by additional information. Reading or replaying the story in its archived form does not constitute a republication of the story.
Ed Yeates reporting Want to see what can slow down the aging process, or turn brittle bones into strong ones?
Try meeting a bear face to face! That's what Brigham Young University researchers are doing.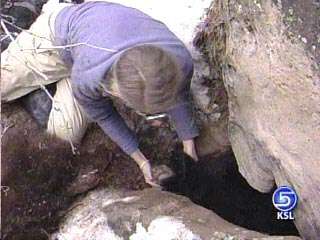 In Utah's rugged Bookcliffs, the BYU team meets up with a twenty year old black bear they have been following for more than a decade. Fourteen years ago, researchers put an electronic collar on her - so no matter where she found a den to hibernate - they were sure to follow
So here again, amidst whispering so as not to wake her, a brave researcher - all in the name of science - crawls head first through the small opening. He gives Heidi, as they've named her, a bit of anesthetic to make sure she stays asleep.
Then out she comes for a yearly checkup, including a breathalyzer test on a new device developed by BYU.
Bear's breath can tell you lot about diet, and more.
Dr. Hal Black, Brigham Young University: "A breath sample - it can tell you when a mother bear starts to make milk as opposed to when she's pregnant."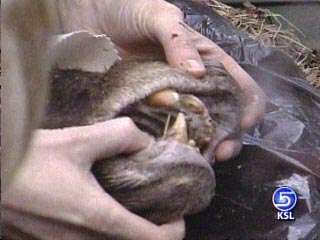 The information is vital to Wildlife Resources: Tracking bear populations, migrations, and what effect the drought has had on the birth or lack thereof of cubs.
Heidi had one cub with her in her den. He too was pulled out for tests.
Dr. Black's team, in collaboration with other researchers, also want to see if hibernating animals like bears and bats slow down the aging process while they sleep, something space travelers might do if they ever seek out distant planets.
Something else is unique about bears while they sleep.
Dr. Hal Black, Brigham Young University: "Bears remarkably - for five or six months in some cases of inactivity seem to lose very little bone mass. And that that they do seems to be replaced very fast in spring."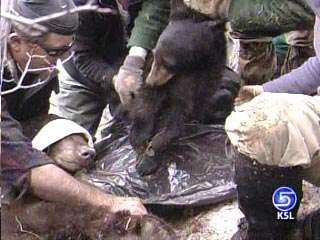 The BYU study has already demonstrated that while bears will eventually develop osteoporosis and arthritis in old age, it's not as bad as we humans get.
And bones? Though the animal ages, they remain strong.
With the tests over, the sleeping bears are put back in their den. The only thing Heidi may remember in a few weeks - if anything - will probably seem like just a bad dream.
Over the past 14 years, the BYU team has studied almost 280 bears and cubs, electronically tracking 38 females and two males.
×
Most recent Utah stories