Estimated read time: 1-2 minutes
This archived news story is available only for your personal, non-commercial use. Information in the story may be outdated or superseded by additional information. Reading or replaying the story in its archived form does not constitute a republication of the story.
John Hollenhorst Reporting Liquids leaking from railcars holding radioactive waste have raised concerns in Tooele County. Although the health risk appears very low, officials still don't know if the cars were leaking while traveling across the country.
The last three leaking rail cars arrived today in Tooele County. There were 17 in all, hauling contaminated dirt from an old federal nuclear laboratory in New York. The Envirocare firm disposes of low-level radioactive waste from a variety of cleanup sites around the country. The rail cars in question were open Gondola cars carrying contaminated dirt from the Brookhaven National Laboratory in New York.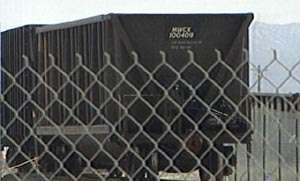 Tim Barney, Envirocare of Utah: "In the short term it isn't dangerous. People work in it, stand in it, and it doesn't cause any problems that way."
But it's dangerous enough it's supposed to be fully contained in a giant plastic bag inside the gondola car, and then covered with a tarp. Last Thursday Envirocare workers noticed water leaking from seven cars. The company says the water was melted snow that accumulated during the loading process in New York. But tests on at least one car showed the water must have leached through the contaminated waste. The leaking water was highly caustic and had trace amounts of radioactive cesium and Americium.
Tim Barney: "All further shipments from Brookhaven have been suspended until we can get to the bottom of it and make sure it doesn't happen again."
The cars were part of a larger shipment of 17, but it took a week before all 17 were safely inside Envirocare's containment facilities.
Critics say the state knew about the leakers a week ago and should have acted more quickly.
×
Most recent Utah stories