Estimated read time: 2-3 minutes
This archived news story is available only for your personal, non-commercial use. Information in the story may be outdated or superseded by additional information. Reading or replaying the story in its archived form does not constitute a republication of the story.
Kimberly Houk ReportingRape Victim: "I was so angry. I said this law needs to change."
And it did change today, the very law that prevented the prosecution of this young woman's rapist. Under the state's former law the statute of limitations on rape was four years.
Police didn't catch up with the rape suspect in this case until four-and-a-half years later, six months past the deadline, leaving the suspect protected by law for a crime police say he committed. There was a lot of relief felt today by the young victim, who says she knows this new law won't help her, but it will one day help someone else.
It was seven years ago when Jennifer Boone's life was changed forever. She was just 15-years old when police say she was snatched by Kevin Blanke while walking near a strip mall in Kearns. He let her go after Boone says he raped her.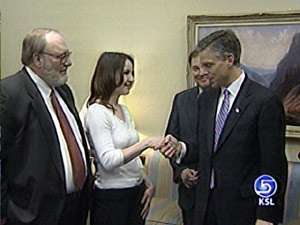 Within days police knew who their suspect was after Boone I.D. him in a photo line-up, but they didn't catch him until after he tried to take another little girl four-and-a half years later. By then it was too late to prosecute him for what police say he did to Boone. And this was something Boone refused to understand.
Jennifer Boone, Rape Victim: "I felt like I was victimized and traumatized all over again, but by the system this time. I was so angry, I thought why is there this law? You've got to charge him. He's guilty."
But it wasn't that simple. The most prosecutors could go for was a kidnapping charge, a charge that didn't carry a time limit. Today Blanke is in prison in a cell where he should stay for the next 15 years.
But that wasn't good enough for Boone. She wanted more. She wanted justice.
Jennifer Boone: "If somebody commits a violent crime like that then they should be held accountable and punished, no matter how long it's been. "
And she took her cause all the way to the hill.
Sen. Ed Mayne, (D) West Valley City: "I was really shocked to learn that we even had a statute of limitations."
For a solid year both Boone and her local senator worked around the clock to get the law changed. And today it was. She says she's relieved that this law will help future victims put away their attackers. Boone tells KSL that changing the law has been the most positive thing to come out of her horrific experience. Many on the hill refer to this new law as "Jenny's Law".
×
Most recent Utah stories