Estimated read time: 2-3 minutes
This archived news story is available only for your personal, non-commercial use. Information in the story may be outdated or superseded by additional information. Reading or replaying the story in its archived form does not constitute a republication of the story.
Sandra Yi ReportingSteven Kusaba: "That girl was special, she was a great girl."
Emotional words about Baby Tamia from the Utah couple who adopted her. The girl was removed from their home after they were arrested on drug charges last week.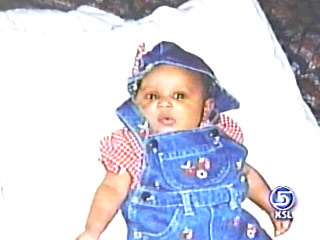 This could be the end of an interstate custody battle for Tamia, who's been placed at a shelter. The baby's birth mother wants her back. A judge in Illinois could decide her fate tomorrow.
The baby's birth mother believes she's one step closer to getting Tamia back. For Steven Kusaba and Lenna Habbeshaw that's hard news to take. They face drug charges, but insist they were loving parents.
Lenna Habbeshaw, Former Adoptive Mother: "She was well cared for and well loved. She had extended family that loved and cared for her. We're going to miss her greatly."
Lenna Habbeshaw and Steven Kusaba were parents for a short three months. Their adopted baby was placed in state custody last week.
Steven Kusaba: "It was crushing. We felt nothing but a wall of pain since then, and it's been very difficult."
Six-month old Baby Tamia has been at the center of a custody battle that crosses state lines.
Carmen McDonald, Tamia's Birth Mother: "I just want Tamia back."
Carmen McDonald is the birth mother. The baby's grandmother is suing the Midvale adoption agency A Cherished Child, saying it pressured McDonald to give up her baby in December. Kusaba and Habbeshaw say it's not true.
Steven Kusaba: "Carmen wanted to do this 100 percent."
Lenna Habbashaw: "When she handed the baby to us, she was absolutely certain that she wanted her to stay here and not go to Chicago."
But the legal 'tug of war' took a stunning turn last week with the couple's arrest. Salt Lake City Police served a search warrant and allegedly found drugs in their home.
Steven Kusaba: "My attorney has told me to not say anything at this time and I'd be happy to talk about it when that matter is clarified."
The adoption agency has revoked their adoption. Tamia will stay in a shelter until a judge decides her fate.
Richard Van Wagoner, A Cherished Child Adoption Agency Attorney: "DCFS or A Cherished Child, who maintains legal guardianship, would return the child to the Chicago area, but turn the child over to their equivalent of DCFS."
The state approved the couple's adoption application even after Kusaba revealed he had a past drug history. The adoption agency says it relied on the state's review to place to baby. The couple reportedly passed extensive reviews and two home visits before their arrest
×
Most recent Utah stories