Estimated read time: 1-2 minutes
This archived news story is available only for your personal, non-commercial use. Information in the story may be outdated or superseded by additional information. Reading or replaying the story in its archived form does not constitute a republication of the story.
CHICAGO (AP) -- A Cook County judge on Wednesday ordered that the child at the center of an interstate custody battle be returned to Illinois.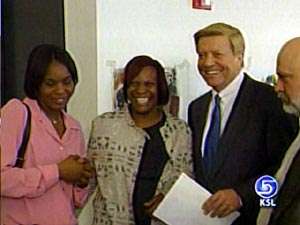 Judge Michael J. Murphy ordered a Utah adoption agency to hand over 6-month-old Tamia to the Illinois Department of Children and Family Services, which then would determine whether to grant custody to her birth mother.
The birth mother, Carmen McDonald of Chicago, had placed the girl with the adoption agency but later sued, alleging it pressured her into giving up her child in December.
This week, the agency declined to place the girl with a Salt Lake City couple after they were arrested on drug possession charges.
McDonald smiled and began weeping softly as Murphy ruled. Her eyes were still damp as she spoke to reporters during a 10-minute recess in the proceedings.
"I am so relieved," she said. "I ain't felt this good in a long time. I am ready to bond with my child."
About a dozen McDonald supporters held hands and prayed just outside the courtroom. Many broke into applause when they heard the decision.
The Utah couple, Lenna Carol Habbeshaw, 45, and Steven Kusaba, 50, were arrested March 17 on charges of possession of cocaine, marijuana and drug paraphernalia and child endangerment, said Salt Lake City Police Detective Dwayne Baird.
Tamia was placed in the temporary custody of the Utah Division of Child and Family Services on Tuesday after the adoption agency, A Cherished Child, refused to place her with Habbeshaw and Kusaba.
(Copyright 2005 by The Associated Press. All Rights Reserved.)
×
Most recent Utah stories