Estimated read time: 2-3 minutes
This archived news story is available only for your personal, non-commercial use. Information in the story may be outdated or superseded by additional information. Reading or replaying the story in its archived form does not constitute a republication of the story.
Sandra Yi ReportingPolice believe the victims of a violent home invasion in West Jordan last night were targeted. The home has a drug history and police believe that had something to do with the crime. Neighbors had similar suspicions.
Sadie Day: "I don't think it's random. I believe if those people weren't at the house, it'd be just fine."
Neighbors say the home has a shady reputation.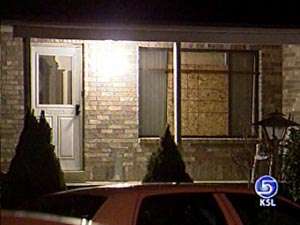 Sadie Day: "That's a known house that has problems."
Police say drugs may have been involved in last night's violent home invasion. They recently served two search warrants there for drugs.
Capt. Gary Cox, West Jordan Police Dept.: "What we're finding is that this is a result of illegal drug activity problems."
Police say two suspects in ski masks forced their way into the home last night. There were seven people inside; two were beaten, several others were tied up. A mother and her eight-year old daughter escaped. Police are still gathering the facts.
Capt. Gary Cox: "If it was simply a disagreement, someone is trying to get someone else in trouble because they owe them money or something like that, we want to investigate that and find out if that's the case."
Police say the suspects and victims aren't strangers. Typical, they say, in a crime like this.
Capt. Gary Cox: "In most cases, at least the ones we're familiar with, the ones we've recently dealt with have been similar to this."
That makes it a little less frightening for Sadie Day. Still, she and her neighbors are trying to pressure the homeowner to evict his tenants.
Sadie Day: "It's a great neighborhood, it really is. There are great people. Everybody watches out for everybody. We're watching the house very closely."
Police say past search warrants have resulted in some arrests there. But there have been no arrests yet in connection with the home invasion.
×
Most recent Utah stories