Estimated read time: 2-3 minutes
This archived news story is available only for your personal, non-commercial use. Information in the story may be outdated or superseded by additional information. Reading or replaying the story in its archived form does not constitute a republication of the story.
Alex Cabrero Reporting"Just a huge, huge blast. The whole house shook. Felt like it got hit by something."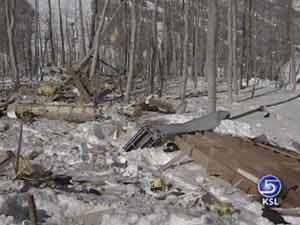 It was the boom heard across the canyon. Now not much is left of the home where it happened. Fire investigators think a propane leak had something to do with an explosion at a cabin early this morning. There's nothing left to the house, but fortunately nobody was inside at the time.
It was very lucky no one was inside because the homeowner was planning on staying there last night and changed his mind because it was getting late.
Ross McIntyre didn't see what caused the big mess, but he sure did hear it.
Ross McIntyre: "Just a huge, huge blast. The whole house shook. Felt like it got hit by something."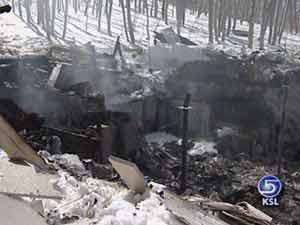 A lot of somethings. Everywhere you look at Forest Glen at the top of Big Cottonwood Canyon you'll see wood, scrap, and other things that used to make up McIntyres neighbors' house.
Ross McIntyre: "Basically all four sides of their house. There's debris in all four directions."
And all because of what investigators think was a little propane leak.
Dee Putnam: "We could actually see the flames from the road below."
Captain Dee Putnam and the Unified Fire Authority had a tough time getting to the explosion. They needed snowmobiles and snowcats, then had to dig through eight feet of snow to get to a water hydrant. Still, there wasn't much they could do.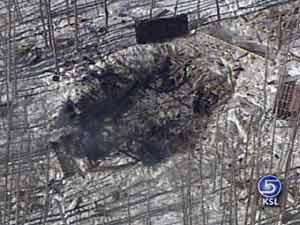 Capt. Dee Putnam, Unified Fire Authority: "The building had been completely demolished. There was quite a debris field."
But you really can't get a sense of how large the debris field is until you look at it from above. Then you really know, this was a large explosion.
Ross McIntyre: "Came up over the top of the trees and came straight down here."
Even hours later, smoke and some flames were still coming from the pit the house left behind. It was enough to make other residents there check their propane hoses.
Ross McIntyre: "It's just shocking that a whole house can just disappear in a split second."
Again, no one was inside the cabin when it exploded so there were no injuries.
×
Most recent Utah stories