Estimated read time: 2-3 minutes
This archived news story is available only for your personal, non-commercial use. Information in the story may be outdated or superseded by additional information. Reading or replaying the story in its archived form does not constitute a republication of the story.
Coco Warner ReportingUtah and 46 other states announced a settlement today with Blockbuster Video over allegations the company misled consumers. The central issue was the company's recent 'the end of late fees' advertising campaign.
The Blockbuster location at 4th South and 5th East is one of the 56 Utah Blockbuster franchises involved in today's settlement. The agreement basically forces the company to better define their 'no late fees' policy and to compensate customers who feel they were misled.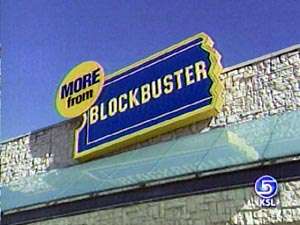 You've probably seen the Blockbuster commercials heralding their new "no late fees" policy. The company launched this advertising campaign in January of this year. But as it turned out 'no late fees' didn't mean no fees at all. If customers didn't return the rental item after seven days, they were required to purchase the item for as much as $20 or $25. And if they returned it after seven days, they were charged a restocking fee of $1.25.
Francine Giani, Utah Division Consumer Protection: "When I initially saw their no late fee policy I thought that it was pretty neat that they could do that; but in fact they weren't doing that, they were using other ways to collect those fees."
So about a month ago, after receiving several complaints, the Utah Division of Consumer Protection joined the Utah Attorney General's Office and 46 other states in a claim against the video rental company.
Today Blockbuster agreed to stop advertising 'no late fees' unless it includes clear information about other rental fees, to direct stores to clearly display the return policy, and to provide a one time restitution to customers who purchased a rental item or were charged a restocking fee under the no late fee program.
Karen Raskopf, Blockbuster: "The states wanted us to make to make the 'no late fee' program more clear to our customers and we're happy to do that. We feel the more our customers understand 'no late fees' the more they'll feel comfortable with it."
Francine Giani: "The message that should come out from this point forward is that advertisers for any company need to be very, very clear with how we deal with consumers, because it could be very misleading."
If you feel like you are entitled to a refund because you didn't understand the policy you can contact your local Blockbuster store. Or you can send your request to corporate headquarters at:
Blockbusterr1201 Elm Street, Suite 2100
Dallas, TX 7527
Attn: Steve Krumholz.
Requests must be sent by April 28. After that customers must send a claim within seven days of discovering an additional charge. That restitution period ends September 29.
×
Most recent Utah stories