Estimated read time: 2-3 minutes
This archived news story is available only for your personal, non-commercial use. Information in the story may be outdated or superseded by additional information. Reading or replaying the story in its archived form does not constitute a republication of the story.
Tonya Papanikolas ReportingPostal workers are seeing a big increase in dog attacks this year. Tonya Papanikolas tagged along with some mail carriers to see what the problem is and what you can do about it.
The state has 1800 letter carriers, who sometimes walk from house to house. But they often encounter dogs that may be a threat. They say if they can't safely get to your mailbox there's a good chance they won't be delivering your mail.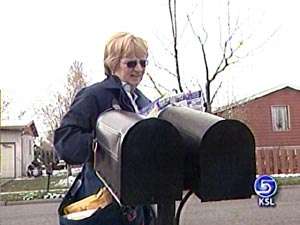 Most letter carriers with the postal service have walking routes. While it may sounds like good exercise, the carriers say it can actually be quite dangerous. Meri Fikes was attacked by a dog.
Meri Fikes: "I was actually walking down the sidewalk and he saw me from inside the house and came out of the house to the sidewalk and got my hand." Attacked by Dog
Fikes healed, but says the incident taught her to be extra careful.
Meri Fikes: "I'm walking along and there's a dog in the yard. I don't go anywhere near that yard. If there's a dog running loose, I don't deliver that street."
That's a policy the post office stands by, and it seems they have reason to. This year 25 letter carriers have already been bit by dogs.
Brenda Ryans, U.S. Postal Service: "That's really alarming when you consider all of last year, we only had 45."
Virginia Bell has been one of the statistics. She's been bit five times.
Virginia Bell: "I had a Dalmatian. The guy decided he wanted to introduce the dog to me. So he let it out of the dog run and it ended up ripping my face all up."
Bell had to have plastic surgery for that incident. She went back to work and a couple years later was bit again by a pit bull.
Virginia Bell: "I had my hand ripped, my pants ripped, and I had the end of my middle finger, my left hand, taken off."
Now Bell only delivers mail to businesses. She says her colleagues would stay a lot safer if people would just keep a closer watch on their dogs.
Virginia Bell: "They just need to keep the dog back because we've just had too many carriers hurt."
The post office recommends keeping a dog fenced in the backyard, on a leash, or inside away from the door when your mail is delivered.
×
Most recent Utah stories