Estimated read time: 2-3 minutes
This archived news story is available only for your personal, non-commercial use. Information in the story may be outdated or superseded by additional information. Reading or replaying the story in its archived form does not constitute a republication of the story.
John Daley ReportingShould the social security system be changed to include limited private investment accounts? Utahns are sharply divided over the issue, as the President locks horns with opponents of his plan.
The President is traveling through the Midwest as part of a 60-day tour to promote private accounts. But opponents of the idea are mobilizing too; today they held what they're calling a "National Day of Action for Retirement Security."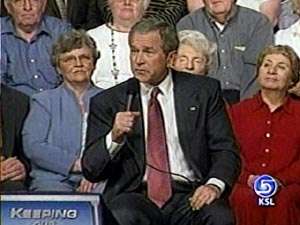 President Bush is barnstorming the country promoting social security reform, saying privatization will give individuals more flexibility and make the program stronger.
President Bush: "I'm gonna be stubborn on the issue and we're gonna keep working this until we get something done."
But the American Association of Retired Persons is stubborn too and is running new ads. Joining the battle is a coalition of advocates for the elderly and people with disabilities and labor groups.
Across the country--and in Utah today--they held what they're calling a "national day of action for retirement security," and calling on Wall Street to withdraw support for what they call a risky plan.
Rob Ence, State Director/AARP of Utah: "We have to be very active in talking about the downside of privatization. Number one, it doesn't do anything to deal with the solvency problem. And in additional costs and debt to society of our next generation there'll be a cut in benefits. There's a lot of risk to the system."
A recent KSL-TV Deseret News poll by Dan Jones and Associates shows Utahns are sharply divided on the President's idea. We asked, what do you think of allowing limited private investment accounts controlled by individuals as a Social Security reform? 47% call it a good idea; 39% call it a bad idea; while 14% said they didn't know or have no opinion.
The President says a crisis is brewing and eventually the money being put in will be outstripped by the money paid out. Opponents say they have no problem with tinkering, but dismantling the safety net of social security is unacceptable.
Barbara Toomer, Disabled Rights Action Committee: "To change it and to throw the baby out with the bathwater, because they want to change it entirely, is just beyond comprehension."
President Bush's ideas for social security reform have been a tough sell. National polls show most Americans have doubts about the Republican plan, and he has so far not convinced even Republican lawmakers who he was traveling with in Iowa today.
×
Most recent Utah stories