Estimated read time: 2-3 minutes
This archived news story is available only for your personal, non-commercial use. Information in the story may be outdated or superseded by additional information. Reading or replaying the story in its archived form does not constitute a republication of the story.
Ed Yeates ReportingThere was a series of earthquakes near one of Utah's highway bridges this afternoon, but this time it was humans shaking things up.
The problem with real earthquakes is you can't just switch one on at will to see if something you've built will hold up, that is unless you've got the beast called "Statnamic" standing on its end in your back yard.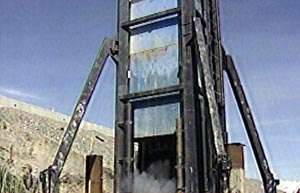 Statnamic is a 25 ton rocket powered weight about the size of a utility van. It just sits up in one big mass, looking rather precarious, until BYU engineer Kyle Rollins and colleagues fire it up - or down we should say.
Gas rocket jets thrust the 25 tons into the ground with 800,000 to a million pounds of force in the same split second the first pulse of an earthquake might hit. In earthquake magnitudes, the force smacking the steel pile foundation might range upwards of...
Kyle Rollins, BYU Civil Engineering: "Maybe a seven and a half in terms of loading the pile to its full capability."
The foundation knows it's been hit hard because sensors all along the structure send stressful reactions to nearby computers.
If pillars in bridges or frameworks in buildings can't handle stress from an earthquake they breakdown, fall apart. Hit after hit, the BYU team, UDOT engineers and researchers at multiple universities will analyze structural components designed to hold up bridges or tall buildings. UDOT will be looking for the stronger links while writing off the weaker ones.
Kyle Rollins: "An earthquake would cause the foundation to rock like this and push down on one side and pull up on the other side. And that's what we're trying to simulate in this test."
The goal is to produce engineering recipes that are better and stronger, that will hold up well in our clay soils no matter how hard the ground shakes.
The BYU study is being funded by the Utah Department of Transportation. UDOT in cooperation with Wadsworth Construction needs this data for future projects, including the proposed Legacy Highway.
×
Most recent Utah stories