Estimated read time: 2-3 minutes
This archived news story is available only for your personal, non-commercial use. Information in the story may be outdated or superseded by additional information. Reading or replaying the story in its archived form does not constitute a republication of the story.
John Daley ReportingSoccer fans here in Utah are fired up and ready for the kick-off of the first game for the state's new major league soccer team tomorrow.
Real Salt Lake plays the first game of its first season tomorrow in New York, and we had no problem finding young players who are excited about this; in fact I think we heard the word "awesome" uttered more than once.
Soccer is nothing new here in Utah, in fact this state has cultivated a huge base of players, more players per capita here than any other state. But the new Major League Soccer team, Real Salt Lake, kicks the sport to whole new level here in the inter-mountain West, as members of this young team are happy to explain.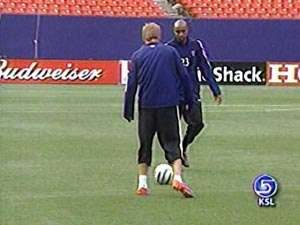 Ally Stainbrook, Soccer Player and Fan: "It'll be a really cool experience. It's gonna be fun. It's pretty awesome, yeah."
Erin Swenson, Soccer Player and Fan: "I think it'll be totally awesome. I think Utah soccer will be much better. The youth will get much better from having MLS players come."
Courtney Johnson, Soccer Player and Fan: "We're gonna be cheerleaders. We're all gonna sit in the front row. It's gonna be awesome."
The team already is among the league leaders in season ticket sales and is counting on a strong youth and Hispanic support.
Alex Gardner, Rowland Hall Soccer Player: "I really excited. I can't wait. I can't stand it, I just can't wait to watch it on TV. I wish they were playing here so that I could go tomorrow."
Chris Agnello was the head coach of the pro soccer team--the Blitzz, and now an assistant with Real. He hopes Real builds on what's come before.
Chris Agnello, Real Salt Lake Asst. Coach: "We developed a nice little fan base. Nothing to this level, but certainly enough to tease the public. So maybe we were the appetizer."
If all goes well the club hopes there'll be plenty to celebrate as only soccer fans can. The game against the Metro Stars at Giants Stadium will air on KSL 5 at 5:00.
×
Most recent Utah stories