Estimated read time: 2-3 minutes
This archived news story is available only for your personal, non-commercial use. Information in the story may be outdated or superseded by additional information. Reading or replaying the story in its archived form does not constitute a republication of the story.
Sandra Yi reporting Federal agents got a man at the top of their Most Wanted list. The suspect is a recent parolee who already had his hands on drugs, a gun and body armor.
Mike Wingert: "He was just paroled from the Utah State Prison on March first, and fairly quickly got ahold of this stuff."
Authorities arrested the man this afternoon, after he caused a multi-car crash.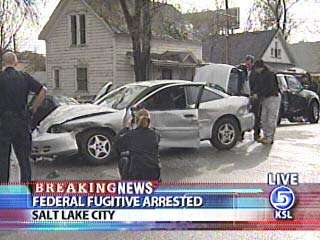 Federal agents saw the suspect leave a house in Salt Lake. They followed him to 300 West and 955 South. That's when things took a dangerous turn.
The hunt for a federal fugitive ended in this multi-car crash. One Reese Carter nearly became a part of. He works at a nearby tire shop.
Reese Carter/ Witness: "I was just pulling out to test drive a customer's car. Just went down a block to make a u-turn, to make sure the car was running well. Just about got sideswiped by the gentleman that was fleeing the officers."
Federal agents had been following the suspect, Corstiann Vanzyverden. But things got out of control when he caught on to it. Vanzyverden wasn't about to give up.
Mike Wingert/ U.S. Marshals: "I was in a vehicle behind here. When he accelerated to get away, he really had his foot into that accelerator."
The suspect rammed his silver, Chevy Cabriolet into several unmarked law enforcement cars.
Mike Wingert: "He hit some of our vehicles with a lot of force,with attempt to bust through them."
But authorities pinned him.
Reese Carter: "He did not have a chance. He was not going anywhere."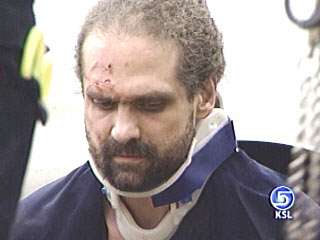 Vanzyverden had been on the run since late last month when a federal grand jury indicted him for drugs and weapons. The charges, after a search warrant at a home revealed Vanzyverden had meth, a gun and body armor.
Mike Wingert: "Those three itms put him real high on our priority list."
A relative, who wanted to remain anonymous, told Eyewitness News that Vanzyverden wore a flak jacket for protection. She says he's been in and out of prison for the past 17 years. Federal agents say, he'll be going back.
Reese Carter: "What he did is wrong, so it's good that he's off the street."
Two federal agents suffered only minor injuries in the crash. So did the suspect, who was treated at a hospital. Authories say he was not armed.
×
Most recent Utah stories