Estimated read time: 2-3 minutes
This archived news story is available only for your personal, non-commercial use. Information in the story may be outdated or superseded by additional information. Reading or replaying the story in its archived form does not constitute a republication of the story.
Sam Penrod Reporting"I am just very happy the Department of Energy has finally stepped up to the plate and admitted that we need to move this tailings pile away from the banks of the Colorado River."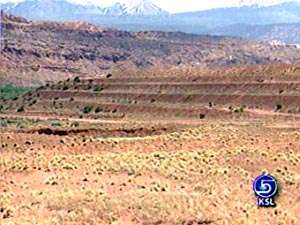 Utah's elected leaders praise a federal government decision that may mean radioactive tailings in Moab finally will be moved away from the Colorado River. It has been an on-going battle for more than a decade-- what to do with the giant pile of radioactive tailings? The options have ranged from moving the tailings away to just capping the pile and leaving it there.
Today's announcement to move the tailings is clearly seen as a victory by Utah's elected leaders. The concern for public health because of the tailings is a big one, not just in Utah, but down river in Arizona, Nevada and California. The Atlas mill has not been in operation for more than twenty years, but the waste left behind from years of uranium mining sits just 750 feet away from the Colorado River.
Rep Jim Matheson: "It will take away a huge risk, first for the people of Moab because this pile is leaching into their ground water supply and secondly anyone who recreates along the Colorado River should feel better about things because at some point if this pile isn't moved, it's going to get flushed down the river in a flood situation and then you are going to have radioactive and toxic material all along the Colorado River."
In today's decision the Department of Energy says it will consider moving 12 million tons of the tailings away from Moab to a remote area about 30 miles north near Crescent Junction.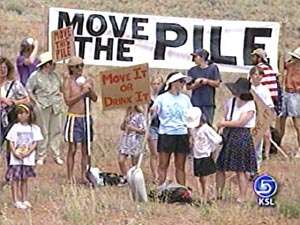 Gov. Jon Huntsman: "I think it's very promising and I think it would suggest that they, at the highest levels of the department of energy, are taking note of some of our concerns."
The concern has been that Uranium and other contaminants are gradually getting into the river, which supplies drinking water for upwards of 25 million people.
Governor Jon Huntsman: "We care about our environment and when we see threats to our resources and our people, we are going to do something about it."
Rep. Jim Matheson: "Moving it is the right thing to do, it removes the risk this isn't over yet. It is just the next step in the process, but today is a really good day, and this is a really good step."
But even with this preliminary decision to move the tailings, congress will now have to come up with hundreds of millions of dollars to make this happen, which is predicted to take several years.
×
Most recent Utah stories