Estimated read time: Less than a minute
This archived news story is available only for your personal, non-commercial use. Information in the story may be outdated or superseded by additional information. Reading or replaying the story in its archived form does not constitute a republication of the story.
STEVENS POINT, Wis. (AP) -- A TV game show celebrity known for his brains is joining thousands of competitors this weekend in Wisconsin for the 36th annual self-proclaimed world's largest trivia contest.
But Ken Jennings says he has no plans to get caught up in the passion of the 54-hour marathon of the mind that starts today in Stevens Point.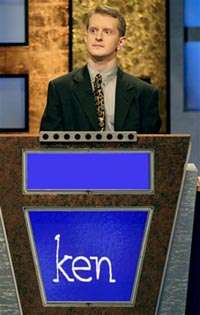 The "Jeopardy" champion will visit the contest to do research for his new book about trivia and game shows. He won nearly two-and-a-half (m) million dollars in his winning streak last year.
The Salt Lake City man says he doesn't think he would be too good at the obscure trivia in the game.
Nearly 500 teams with about 12-thousand players are expected to compete as eight questions an hour are read on the University of Wisconsin-Stevens Point radio station.
Event organizer Jim Oliva says Jennings' presence shows how important the contest has become.
(Copyright 2005 by The Associated Press. All Rights Reserved.)
×
Most recent Utah stories