Estimated read time: 2-3 minutes
This archived news story is available only for your personal, non-commercial use. Information in the story may be outdated or superseded by additional information. Reading or replaying the story in its archived form does not constitute a republication of the story.
Sandra Yi Reporting A junior high school student is under investigation for allegedly making threats against fellow students and teachers. The 15-year old was a student at Rocky Mountain Junior High in Weber County.
This is an on-going case, so investigators won't say exactly what kind of threats the teen allegedly made, but they're taking it very seriously.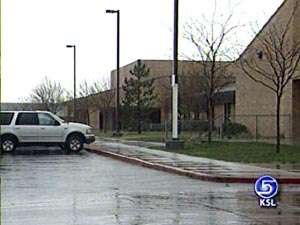 Capt. Klint Anderson: "School districts have tightened up their policies and become much less tolerant of any kinds of threats."
When it comes to school safety, times have changed.
Capt. Klint Anderson: "There's been an evolution in not only the public's perception of these events, but also law enforcement's response."
Police acted quickly when a student at Rocky Mountain Junior High School made threats. That was nearly two months ago.
Capt. Klint Anderson: "At that time, the kid had allegedly made some threats against some of the faculty members."
The 15-year old was expelled and referred to juvenile court, but the case didn't end there.
Capt. Klint Anderson: "There has been some other information that's developed, and it's part of an ongoing investigation. There were threats made to a number of people, several."
Including fellow students, faculty and a school resource officer. Investigators say the teen reportedly once brought a pocket knife to school. Still, they don't know whether he would have carried out his threats.
Capt. Klint Anderson: "That's really the crux of the matter, and that's what they're looking carefully at."
But for students the teen's intent doesn't matter. They say even jokes can go to far.
Colten Watt, Student: "I think he's just stupid. There's no reason to do it."
Roice Watkins, Student: "If you're joking, you'll get busted for it; and it puts other people in harm's way."
Colten Watt, Student: "It scares me, sort of, like you can't come to school and be safe."
The teen is in a juvenile detention center. Investigators say it doesn't appear any other students were involved.
A spokesperson for the Weber County School District told us letters informing parents about the investigation are going out today.
×
Most recent Utah stories