Estimated read time: 2-3 minutes
This archived news story is available only for your personal, non-commercial use. Information in the story may be outdated or superseded by additional information. Reading or replaying the story in its archived form does not constitute a republication of the story.
Sam Penrod ReportingJoe Christensen, Dir. State Insurance Fraud Division: "In the last five years agent fraud has tripled and we're very concerned."
An insurance agent is taken to jail after investigators say she spent her customer's premiums, to the tune of nearly 100-thousand dollars. It seems to be a growing problem -- insurance agents who pocket their customer's premiums instead of forwarding the money onto the underwriters. Today fraud investigators arrested another.
The independent insurance agent has already lost her license, but today she was charged with nine felony counts of insurance fraud and was arrested and taken to jail. Investigators with the state insurance fraud division made the arrest this afternoon in Lehi.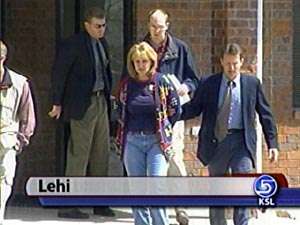 Cindi Parmley was taken into custody after a long investigation. Parmley is accused of stealing a construction company's premiums of more than 41- thousand dollars and never sending it to the insurance underwriters as she was suppose to do. Investigators also say Parmley issued false surety bonds that were suppose to be worth 12-million dollars, while pocketing the 50-thousand dollars in premiums.
The state's insurance fraud division says Parmley's arrest is the latest in what is becoming a growing problem, insurance agents scamming their customers.
Joe Christensen, Dir. State Insurance Fraud Division: "The public should be aware of when they are purchasing insurance, be concerned about door to door salesman, telephone sales, telephone solicitors. If you purchase insurance, never sign a blank application. Call up the insurance company yourself after you purchased it to ensure that you are covered."
Insurance investigators also say customers should be cautious if the price of an insurance policy seems too good to be true. They say you can verify with the state insurance department if you have questions about an agent.
Cindi Parmley faces one to fifteen years in prison on each of the nine felony charges against her. She is in the Utah County jail; bail is set at five thousand dollars cash.
×
Most recent Utah stories