Estimated read time: 2-3 minutes
This archived news story is available only for your personal, non-commercial use. Information in the story may be outdated or superseded by additional information. Reading or replaying the story in its archived form does not constitute a republication of the story.
Ed Yeates reporting Samples of the deadly H2N2 virus came to at least three Utah facilities. In at least these three cases, at Primary Children's Hospital, ARUP labs, and the State Health Department Lab, the virus has already been destroyed.
The virus was delivered routinely in what is called a proficiency test kit. By testing and identifying what kinds of infectious agents are in the kits, high end labs prove their worth to government licensing agencies - that they know what they're doing.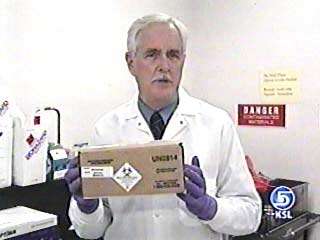 So even though this was a mistake - a big one - state lab director Dr. Barbara Jepson and her staff handled it like they do any other infectious sample.
Dr. Barbara Jepson/Director State Health Department Laboratory: "This was just business as usual, and that's why we weren't scared. We weren't concerned."
The kits arrive inside a box, and once inside the lab, protocol is followed. Those who handle the box wear a white coat and gloves.
All infectious samples are tested carefully under a hood in a highly restricted area.
Once identified, they're carried in special wrapping to either an incinerator - or in this case - an autoclave that pressure cooks and destroys everything in the bag.
Infectious disease specialist Dr. Andrew Pavia at Primary Children's Hospital says the Utah labs that mistakenly got the virus were on their toes, but the licensed company that mistakenly sent it - that's another matter.
Andrew Pavia, M.D./Infectious Disease Specialist, PCMC: "What you do here is very similar to what you do after an airplane crash. You go through everything step by step, see where the breakdowns were, how to fix the system so it can't happen again."
Dr. Pavia is chairman of a national task force that's now monitoring the worlwide movement of potentially dangerous strains of influenza that could threaten another pandemic.
×
Most recent Utah stories