Estimated read time: 2-3 minutes
This archived news story is available only for your personal, non-commercial use. Information in the story may be outdated or superseded by additional information. Reading or replaying the story in its archived form does not constitute a republication of the story.
Richard Piatt reporting Salt Lake County's Mayor addressed the growing number of scandals that keep turning up at the county government center.
There are now a series of audits taking place: The latest focus on allegations of timecard fraud and improper hiring practices. That's on top of a tuition reimbursement scandal that could result in criminal charges.
County employees gathered around a news conference, eager to hear from Mayor Corroon about yet another list of scandals. Not all of it was encouraging.
Peter Corroon/Salt Lake County Mayor: "This may not be the last of the bad news that we uncover."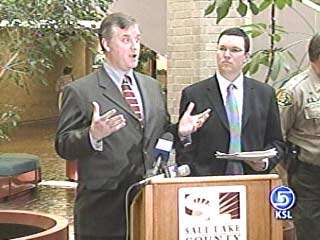 Corroon confirms: Audits are currently underway on a variety of allegations involving abuse of taxpayer money.
Included: Potential fraud on time cards; county credit card and travel reimbursement policies, the way employees handle cash transactions, and over hiring and promotion policies within the county.
In each case, whistleblowers--county employees-- have come forward to detail problems they say have existed for years.
Sean Thomas/Salt Lake County Auditor: "These are instances where things have been in place for a long period of time, that need some adjustment and change and need to be repaired."
Peter Corroon/Salt Lake County Mayor: "The tuition assistance program was one of those. So we're going to be looking at everything, finding policies and procedures that lead to abuse."
The tuition assistance program investigation uncovered several examples of improper management at least--possible fraud or theft and its worst.
A criminal investigation on County personnel director Felix McGowan and tuition coordinator Lisa Funderburk is underway right now. Neither returned phone calls for comment.
Yesterday, a former payroll employee alleged "significant discrepancies" in worker timecards.
The Salt Lake Tribune reported the allegations have prompted the mayor's office to request a countywide audit of timecards.
Auditor Sean Thomas confirmed yesterday his office has received the timecard audit request.
The former payroll employee, who now works in the auditor's office, was granted whistle-blower protection yesterday.
The whistle-blower also alleged hiring abuses under Personnel Director Felix McGowan. She said job standards were often lowered to employ friends and family of county employees.
In the meantime, Corroon is pledging openness in the process.
Peter Corroon/Salt Lake County Mayor: "Sunshine is good for everybody and everything. We are going to shed some light on everything in Salt Lake County government, good or bad."
Right now, no one knows for sure how much money might be involved in this latest round of scandals.
The total budget for the Tuition assistance program is about 350-thousand dollars a year.
(The Associated Press contributed to this report)
×
Most recent Utah stories