Estimated read time: 2-3 minutes
This archived news story is available only for your personal, non-commercial use. Information in the story may be outdated or superseded by additional information. Reading or replaying the story in its archived form does not constitute a republication of the story.
Jed Boal reportingOur water supply for the summer looks good--a relief after six straight years of drought. But many water watchers want to make sure our gains in conservation don't go down the drain.
Spring is exploding and it seems like an odd year to talk about saving water. Most reservoirs will fill, and flooding is a bigger worry than drought.
But, at a conservation symposium today, the message was clear: We cannot return to wasteful ways.
Snowpack is plentiful, so most of us won't worry whether there's enough water for our thirsty, growing comunities.
When we had to cut back, we did. The challenge this year is to keep it going. That was the focus of more than 100 people from water districts, state agencies, conservation groups and irrigation businesses.
Gary Herbert/Lt. Gov. of Utah: "We live in a desert, so the concern I've got and many others is, let's not forget conservation needs to be second nature."
There are few remaining water sources to develop in Utah to sustain growth. We have to stretch what we already have.
Dianne Nielson/Dept. of Env. Quality Executive Director: "We need to find better ways to conserve and sustain that conservation whether we have high snowpack or low snowpack."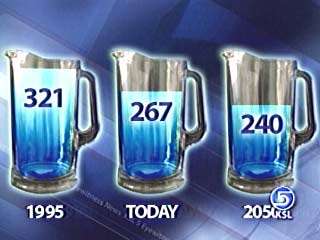 Ten years ago, Utahns averaged 321 gallons of water per person per day. The state set a goal of 267 gallons by the year 2050...a 25 percent cut.
So far, we're headed in the right direction and have already cut 17 percent.
Stuart Eyring/Orbit Conservation Officer: "The demands on water are increasing. So, even if we had a normal water year, that demand is not going away."
We all learned a lot about saving water during the drought. How much we save when we're not in an emergency will tells us whether we've embraced the conservation ethic.
×
Most recent Utah stories