Estimated read time: 2-3 minutes
This archived news story is available only for your personal, non-commercial use. Information in the story may be outdated or superseded by additional information. Reading or replaying the story in its archived form does not constitute a republication of the story.
Keith McCord reporting Hundreds of Utah junior high and high school students are competing this week in a technology contest. It's an annual event aimed at those interested in science and technology as a career.
With their inventions, the students are trying to advance to a national competition, against thousands of other students later this summer.
Judges give the students a certain task to complete; or something to build. The students then create it, and hope it works!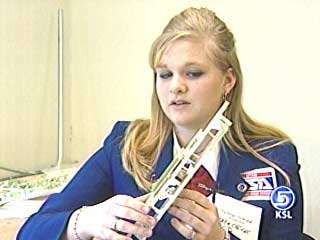 Sydnye Oswald and Ricky Turner are building miniature bridges. Judges gave them 2-and-a-half hours, and very few materials!
Sydnye Oswald, Lehi High School Sophomore: "They gave us about 24 feet of balsa wood, a three by five note card, and glue."
And they came up with this. Tomorrow, they'll put it in a machine to see how much weight it can withstand before it breaks!
Jarod Hale and Samson Forsman have built a hydroponic growing machine-- that some day could help grow plants in space.
Jarod Hale/ West Jordan High, Sr.: "And it'll flood the roots with pure nutrients and then it'll let it dry, so they don't rot, because roots cannot be in water all the time."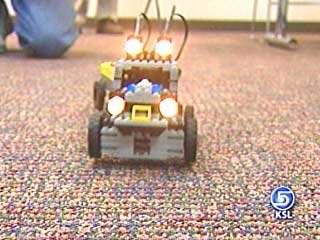 This competition is put on by the Technology Student Association-- a national non-profit organization devoted to encourging students who have an interest in technology. Students from 25 Utah schools are involved this year.
Dave Palmer/ Utah Advisor for TSA: "We're very career-oriented and very interested in encouraging the students to go on in their proble-solving abilities, and their ability to get into technology and to solve issues."
From medical technology, photography, computers and making race cars our of Lego's, these students are inventing it. And they'll get creative too. We're really NOT sure what some of the things are or what they do.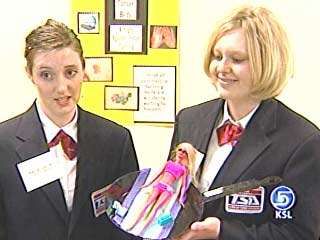 Sense of humor is good--Marcia Carson and Nonie Hunter from Pleasant Grove High put a sunburned Barbie into a frying pan.
Nonie Hunter/ Pleasant Grove High, Soph.: "When you go tanning, the UV rays, they damage your skin greatly. We just wanted to show that when you go tanning, that you're frying your skin."
This is a fun competition, but the students take it very seriously too, because they'll looking at getting their careers going -- and this helps. Instructors from ITT Tech and BYU are working as judges. They'll continue the contest tomorrow.
×
Most recent Utah stories