Estimated read time: 2-3 minutes
This archived news story is available only for your personal, non-commercial use. Information in the story may be outdated or superseded by additional information. Reading or replaying the story in its archived form does not constitute a republication of the story.
(KSL News) Utah soccer goes pro as Real Salt Lake wins its first ever home game.
This was the day soccer fans in Utah have waited for. The home opener of Major League Soccer.. Real Salt Lake and the Colorado Rapids. And 25-thousand people showed up for the game.
At the 81st minute in the second half, Real got a free kick, and Brian Dunseth put Real ahead 1-0.
Then with a couple of minutes left, Colorado worked for the tying goal, but it was blocked. And that did it. Real Salt Lake won its home opener, the first in franchise history.
The fans had suspense, and a win. They couldn't ask for much more than that in a home debut. We wandered all over the stadium and found a diverse, enthusiastic and knowledgable crowd...a crowd that was having a lot of fun.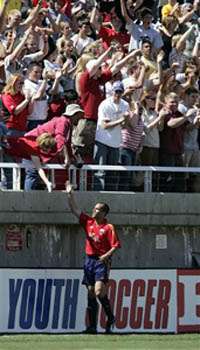 From blocks away you could here the "Samba Gringa" drum band banging out some beats that would have been right at home at a Brazil national team game.
There were plenty of young soccer players--boys and girls both--in the stands, and there were were plenty of families at the game who have grown up with soccer.
Keith Stratford, Layton Resident: "I'm actually surprised that there's this many people. I think it's a tribute to Salt Lake that we're getting that many people here."
Brian Stratford, Layton Resident: "I think it's great. I think soccer is on the grow. I think it's what Utah needs."
Lorin Hansen/ "Samba Gringa" Band Member: "We're really excited about this. It's fun."
Jose Valasco, Taylorsville Resident: "As you can tell, there is just a lot of people that love soccer. Soccer is a great game. It's intelligent. It's physical, and it has a lot of energy."
There was a lot of energy in the crowd, and the reaction when that goal was scored near the end of the game was electric.
×
Most recent Utah stories