Estimated read time: 3-4 minutes
This archived news story is available only for your personal, non-commercial use. Information in the story may be outdated or superseded by additional information. Reading or replaying the story in its archived form does not constitute a republication of the story.
CEDAR CITY, Utah (AP) -- As the weather warms, this scenic high-desert town is rushing to make preparations before an enormous accumulation of waterlogged snow begins to melt in the mountains and creates a threat of spectacular flooding.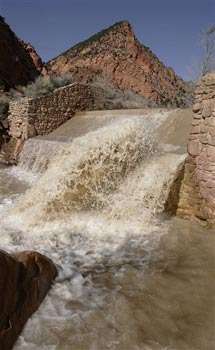 Crews have started raising the bed of a state highway and fortifying ditches, city officials are praying for gradual warming that would melt the snow slowly, and officials of two counties already have declared states of emergency they may not need for a month.
Snow has accumulated to as much as 372 percent of normal at some higher elevations, nearly 13 feet deep at some spots on the high sprawling plateau above Cedar City, home of more than 20,000 people and Southern Utah University.
"That snowpack -- it's scary," City Manager Jim Allan said of Midway Valley, a 9,800-foot mountain saddle near Cedar Breaks National Monument, which is still snowed in.
Pacific storms this past winter favored the drought-weary Southwest, piling snow on southern Utah and giving Arizona and New Mexico their wettest winter in a century, while the Pacific Northwest and northern Rockies were uncharacteristically dry.
"We got Washington's snowpack, is what it boils down to," said Randy Julander, Utah's federal snow survey supervisor.
And all that snow on the plateau above Cedar City has an unusually high water content.
"Think of it as a pool of water on the mountain 67 inches deep," said National Weather Service hydrologist Brian McInerney.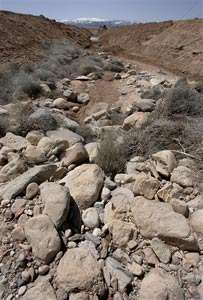 The flood threat in Arizona and New Mexico is diminishing with warming weather and gradual melting, and Nevada hopes to absorb its runoff in depleted reservoirs.
However, a cool, wet spring could spell trouble for Utah if it leads to a sudden break into snow-melting summer temperatures, McInerney said.
Crews are working to channel the meandering Virgin River at St. George, a booming retirement community. Springdale, in the scenic canyon just outside Zion National Park, sits almost entirely on the river's floodplain. Downstream, crews at Mesquite, Nev., failed in an attempt to coax the river back into an old channel and away from eroded banks that in January forced dozens from their homes.
"Everything on the Virgin River is ready to rip and run," Julander said.
At Cedar City, many newcomers seem unconcerned by the danger created by the dense snow sitting just 18 miles away.
Tom Cullen, a retired telecom worker who came from Massachusetts a year ago, joked about acquiring lakefront property if water fills a dry lake bed a few hundred yards from his new house.
"I'm concerned about the water, but worried? I don't think it's going to get this high," said Cullen.
But city officials are spooked.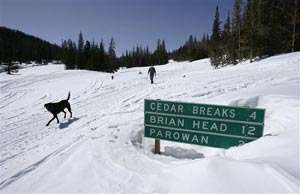 For two months, the city has been fortifying Coal Creek and ditches all around Cedar City, cleaning out creek beds and filling sand bags. The state is raising more than a half-mile of state Route 56, which flooded last October, by 4 feet.
So far, Coal Creek, which cuts through town, is flowing at little more than 50 cubic feet per second. At the height of runoff, it's expected to run at 40 times that amount or more.
"We're making a concentrated effort of trying to get our channels cleared out for the spring runoff," City Engineer Kit Wareham said.
(Copyright 2005 by The Associated Press. All Rights Reserved.)
×
Most recent Utah stories