Estimated read time: 2-3 minutes
This archived news story is available only for your personal, non-commercial use. Information in the story may be outdated or superseded by additional information. Reading or replaying the story in its archived form does not constitute a republication of the story.
Sammy Linebaugh Reporting When a Utah missionary returned home this past winter something was dramatically different. His parents just weren't what they used to be.
Dave Erickson: "It hit me, if I don't lose the weight, I'm not gonna be here."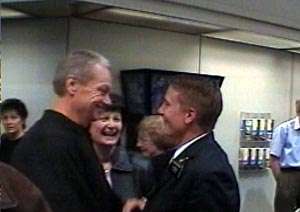 Susan Erickson: "I was tired of being heavy. I couldn't tie my shoes."
From pictures it's hard to recognize the couple walking in the park is the same couple that just 18 months ago could barely walk a flight of stairs without wheezing.
Dave Erickson: "We just decided it was time."
No magic, no miracle cures, the Ericksons started walking together after dinner.
Susan Erickson: "I like to eat. I enjoy food."
So cutting the snacks wasn't easy, but slowly, healthier habits stopped being a "have to".
Dave Erickson: "It got to the point where I was going out and walking. It wasn't something I had to do, it was something I was looking forward to."
Having that other person to be accountable to, both Dave and Susan say, was a key to their success. So was a little added motivation -- son Rand was returning from an LDS mission. Imagine his surprise to see his dad, who when he left weighed 400 pounds.
Rand Erickson: "I cried. His face, just, whoa."
Dave Erickson: "He gave me a hug and then he stepped back and he goes, whoa."
Dave has dropped a total of 185 pounds, Susan has lost 100 -- enough, they say, to open a whole new world of family adventures.
Susan Erickson: "Who would have thought one year ago we'd be floating down the Snake River. I never would have done that because I would be embarrassed they wouldn't have a life jacket that would fit me."
It's just one of many dreams, this couple plans to enjoy, one step at a time. Dave Erickson is already fulfilling another dream this Saturday; he is running the Salt Lake City marathon.
×
Most recent Utah stories