Estimated read time: 1-2 minutes
This archived news story is available only for your personal, non-commercial use. Information in the story may be outdated or superseded by additional information. Reading or replaying the story in its archived form does not constitute a republication of the story.
Sam Penrod ReportingAnother disappointing day in Southern Utah where searchers have found no sign of two BYU students who have been missing since Saturday. The two were on a hiking trip and never returned to their car.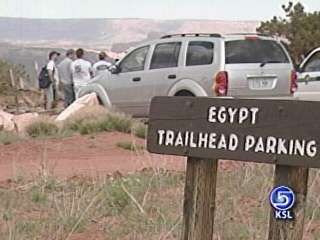 Searchers are still out looking, but so far have found nothing in their search for the missing students. As time goes by concern gets even greater. For three days now the search has been going on in a very remote location about 30 miles south east of Escalante.
Twenty-five year old John Anderson and 24-year old Brad Underwood are four days overdue now, since they came on a canyoneering expedition before they were to take their final exams at BYU this week.
Searchers today are looking in an area of a very narrow slot canyon, which is about 300 feet high and just 16 inches wide in some spots. Today a hiker who was in the area yesterday described how treacherous it is.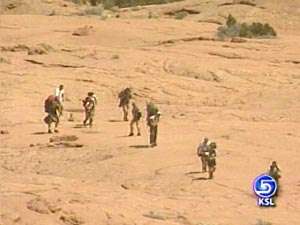 Perry Fishbaugh, Bozeman, Mont. Hiker: "The canyon slopes out really easy, it's really deceptive. And once you get past the first repel point and you pull your rope, you're committed. After that it just really gets difficult, a lot of swimming that you have to do through real deep, narrow canyons."
Today that hiking group of seven people from Montana hiked out of the area. They've been there since Sunday. They reported to authorities yesterday that they had found one of the men's backpacks in that same area. So for now, that is where the search effort is focused.
Many people have offered to get involved in this search, including many friends and BYU students, but authorities say because the search is so technical, only the most experienced searchers can be involved.
×
Most recent Utah stories