Estimated read time: 2-3 minutes
This archived news story is available only for your personal, non-commercial use. Information in the story may be outdated or superseded by additional information. Reading or replaying the story in its archived form does not constitute a republication of the story.
Tonya Papanikolas ReportingA Weber County community came together this morning to make sure a lost little boy found his family. Some new technology aided in the process as well.
It was 6 a.m., one of the neighbors was backing out of their driveway when they looked across the street and saw the three-year-old boy on the sidewalk, crying. Keep in mind it was still dark at that time. The little boy was wearing pajamas and socks, no shoes and no coat.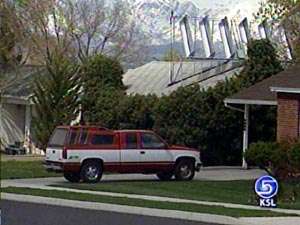 Nobody knew exactly where he had come from. The neighborhood was quiet, nobody had their lights on yet, so the neighbor took him to the family next door.
Mindy Myers, Neighbor: "We brought him in and asked him, 'Do you know where you live?' He started crying, couldn't really answer anymore questions. He did say his name was Bubba, he didn't have a last name."
The little boy didn't say much. He didn't know his parents' names either, so the family called 9-1-1. Police showed up and tried to knock on doors, but no one they talked to knew where he belonged.
That's when the Weber County Sheriff's office decided to use their innovative city watch technology. With it they can narrow down the neighborhood they're interested in, highlight it on a computer, and create a computer-automated phone message that is sent out to every person in that radius.
Within one hour the system sent out almost 1200 phone messages. People started showing up to help this little boy, and soon the boy's grandma woke up. She'd been watching her grandson and noticed he was gone.
Lt. Terry Thompson, Weber County Sheriff's Office: "When she woke up at 9:00, she found out he was missing and concerned and called us. We were glad to take him back to her. He was in good shape, good health, good spirits."
Within three hours the family was reunited. It turned out the boy was only six homes away from where he started.
×
Most recent Utah stories