Estimated read time: 2-3 minutes
This archived news story is available only for your personal, non-commercial use. Information in the story may be outdated or superseded by additional information. Reading or replaying the story in its archived form does not constitute a republication of the story.
Sandra Yi ReportingChris Shurian: "He told us that somebody had been burglarized by a guy with an axe, and he was in our building."
A man toting an axe caused quite a commotion in Provo. It all started around 7:30 this morning. Police say the suspect burglarized a house then ran inside an office building, carrying an axe.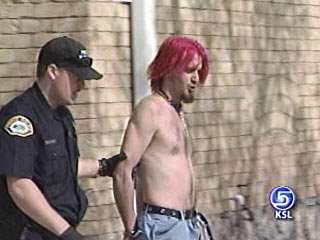 No one was hurt. Police say, the suspect never threatened anyone with the axe. As soon as he walked into an office building he tossed it behind some stairs. Then he tried to blend in. But it wasn't business as usual in the Provo office building.
Chris Shurian, Building Owner: "I'm a pretty calm guy, but it was pretty exciting."
Police caught the suspect hiding in the attic. The man's unusual appearance caught Chris Shurian's eye earlier that morning.
Chris Shurian: "He had bright red hair and kind of looked a little out of place, so I gave him a nod, and he gave me a nod right back, and he hit up the stairs, and I went on to my meeting."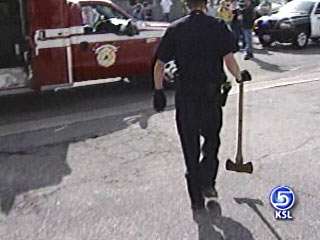 An accountant encountered the man next. She says he walked into her office and politely asked to use her phone.
Chris Shurian: "She said it sounded like he called a friend of his and said, 'Hey, meet me down by the tracks. I'm walking down by the tracks. Get here quick,' and then he hung up and walked out of the office."
Twenty-eight-year old Jeffrey Carter was on the run. Police say he had just burglarized a nearby home and the victim caught him in the act.
Marco Mejia, Burglary Victim: "They saw the guy inside the house and he asked them what they were doing. And all they said was, 'Excuse me,' and he pushed him."
Mejia and his friends chased the burglar to the office building. Meantime, the suspect got his hands on an axe, but he ditched it in a stairwell.
Sgt. George Besendorfer, Provo Police Dept.: "The resident saw him enter the building with the axe. They don't remember the axe while they were actually in the resident. We don't know where he picked it up or how he came up by the axe."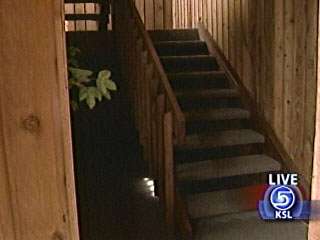 It didn't take long before police and canine dogs found Carter. They brought him out, shirtless.
Sgt. George Besendorfer: "He probably tried to change his appearance, and he tried to get away, but it wasn't going to work."
Carter faces burglary charges.
×
Most recent Utah stories