Estimated read time: 2-3 minutes
This archived news story is available only for your personal, non-commercial use. Information in the story may be outdated or superseded by additional information. Reading or replaying the story in its archived form does not constitute a republication of the story.
Richard Piatt ReportingSpringtime runoff has already started to flow into Utah streams. Water from Parley's, Emmigration, Millcreek and City Creek canyons is already high--a bit of a surprise for some people.
The calm, sleepy streams are gone, replaced by a swift current that worries parents and pet owners who are used to wading there. Even the ducks would rather fly than fight the current here in Sugar House Park these days. The pace of one normally calm stream has picked up recently, turning into a mini-rapids. It's enough to create concern for four-year-old Nate's mom.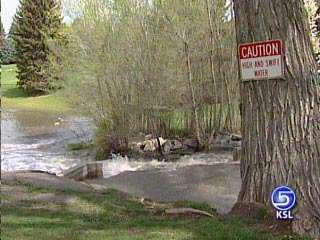 Christine Wilbank, Parent: "He wanted to have a picnic right over there, and I said no. We moved it a bit farther away and he knows he should be out of the water."
Nate Wilbank: "You never stay near water because you might fall in it!"
It's a hard message to get across sometimes: Water is a strong lure for kids, especially when a playground is close. Mike Martinez watches daughter Mikayla every second to make sure she's safe.
Mike Martinez, Father: "I'm really concerned for her age and I am concerned for anybody really because the runoff is so treacherous back there."
But get ready, parents. This is just the beginning. This is just the result of runoff from lower elevation snowfall. In higher elevations, like Little Cottonwood Canyon, the snow hasn't even really started to melt. And when it does, the results will be noticeable.
The runoff doesn't even have to be dramatic to be dangerous. This year officials are expecting runoff danger in nearly every stream and canal in the state. It'll be a challenge for pet owners too. Dogs also like to frolic in the water, normally, but some are a bit smarter.
Marge Knowlden, Dog Owner: "She went out there and found there was a bit of a current there and came right back!"
Honestly, this is probably the first of many stories we'll be doing on this runoff, and about safety. The water will be cold, and there will be lots of it.
×
Most recent Utah stories