Estimated read time: 2-3 minutes
This archived news story is available only for your personal, non-commercial use. Information in the story may be outdated or superseded by additional information. Reading or replaying the story in its archived form does not constitute a republication of the story.
Sandra Yi ReportingLt. Phil Kirk: "We're considering him armed and dangerous."
The search continues for a man who brutally beat a convenience store clerk. The 25-year old victim was attacked early Saturday morning. She was working alone in a Park City 7-11.
The victim knows of the suspect because he's a frequent customer at the 7-11 store. Surveillance video caught him on tape.
Lt. Phil Kirk: "The suspect had been coming in on a nightly basis to buy beer late at night."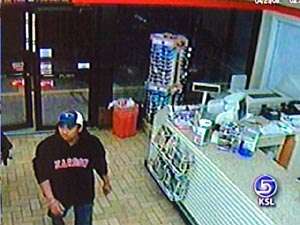 That was the case early Saturday morning. Surveillance video shows the suspect walking into the store and grabbing a drink from the cooler. Twenty minutes later he's back and with a gun. Police say he became violent with the store clerk.
Lt. Phil Kirk, Park City Police Dept.: "He took her in the back room and severely attacked her, and beat her and knocked her unconscious."
Cameras caught him leaving the store with what looks like his weapon tucked into the back of his pants. When the victim came to she called police.
Lt. Phil Kirk: "She had some pretty serious injuries about her face and upper body, fractured nose and jaw."
Police are now looking for 19-year old Fredy Vasquez-Lopez. He was arrested last year for DUI, but has no history of violent crimes.
Lt. Phil Kirk: "It doesn't appear that he took any property or any money from the victim or the store."
Police don't know what set him off. His motive, they say, is baffling.
Lt. Phil Kirk: "It's shocking why somebody would do this to such a petite young lady, from all accounts, from talking to other people, customers and clerks, employees of the store, that she's been a nice lady, friendly with the public."
Police say since the attack there have been several sightings of the suspect in Park City. You can call them with any information. As for the victim, she's been released from the hospital.
×
Most recent Utah stories