Estimated read time: 2-3 minutes
This archived news story is available only for your personal, non-commercial use. Information in the story may be outdated or superseded by additional information. Reading or replaying the story in its archived form does not constitute a republication of the story.
Sandra Yi ReportingA bargain hunt led to a police investigation. It started when a Layton couple bought a pricey painting for just a dollar. They got a lot for their dollar.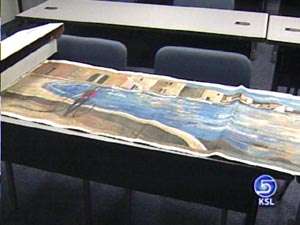 That couple went shopping at Market Square and bought a cheap piece of art. But it was more than what they bargained for.
Craig Gibson, Layton Assistant Police Chief: "It was a deal."
Well, more like a steal, literally.
Craig Gibson: "Apparently, it's worth about five-thousand dollars."
Turns out it is an original work of art by contemporary Spanish artist Didier Lourenco. His signature and some sort of identifying number are on the piece.
Craig Gibson: "We don't know how the artwork showed up at the market dollar store. Obviously the store itself didn't know the value itself or they probably wouldn't be marking it for a dollar."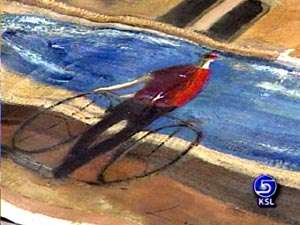 The couple decided to sell the painting on eBay. The highest bid, reached six hundred dollars, before the sale was cut short.
Craig Gibson: "And as luck would have it, the art company obviously checking different places looking for this piece of art, saw the piece of art on eBay."
Last month, a Seattle art gallery bought the painting in Texas and was shipping it to a gallery in California.
Craig Gibson: "Somewhere in transit it came up missing."
It resurfaced slightly damaged. How it disappeared and ended up in Utah are a mystery. But police say there's a lesson here for bargain hunters.
Craig Gibson: "Yeah, you may get a really great deal, and you may walk away with a great profit, but you also may get something that's stolen. Because if it looks too good to be true, it probably is."
The couple is only out a dollar. Neither they nor the store are suspected in the case. Police are shipping the painting back to Seattle.
×
Most recent Utah stories