Estimated read time: 2-3 minutes
This archived news story is available only for your personal, non-commercial use. Information in the story may be outdated or superseded by additional information. Reading or replaying the story in its archived form does not constitute a republication of the story.
Tonya Papanikolas reporting Some Utah families are trying to raise awareness over a disease many people have never heard of.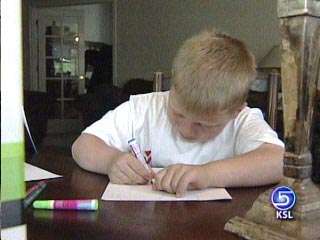 It's called "tuberous sclerosis", and at least two children are born with it every day. The symptoms can be severe, and take a toll on families.
"Do you want to sit down? Do you want to color?"
9-year-old Luke Runyan has "Tuberous Sclerosis", a disease that causes tumors throughout the body.
Deanna Runyan-Wall, Mother: "When I was pregnant, 7 months gestation, I had an ultrasound, and at that point in time, they actually discovered four tumors in his heart."
At six months old, Luke had his first seizure. The family then learned he had tumors in his brain, eyes and kidney as well.
Deanna Runyan-Wall: "Living with tuberous sclerosis in your life is like walking through a minefield. You have no idea when a symptom is going to appear."
People with TS often develop epilepsy and autism. Luke has a degree of autism that includes mental impairment and behavior issues.
Deanna Runyon-Wall: "We see a lot of aggression, a lot of frustration, a lot of meltdowns."
Though he's 9, Luke can only count to 12, and his 3-year-old brother is teaching him his ABCs.
Jake: "A,B,C,D,E,F,G..." Luke: "A,B,C,D,E,F,G"
Deanna Runyon-Wall: It is so sad to see your child struggle."
That's something the Halladay family has also endured, since all three of their kids have the tumors.
Tonjelle Halladay, Mother: "They all have them in their brain, kidneys, in their heart. Except Lexi - she doesn't have them in her heart. And Shane has one in his eye."
Eight-year-old Mikel had to have a dangerous brain tumor removed when she was three. Both girls have skin lesions or rashes on their face. And two-year-old Shane just learned to walk. Until recently, he had severe seizures.
Michael Halladay, Father: "Before we got him on the seizure medication, he was having anywhere from 30-50 a day. And they'd wear him out."
One in every 5800 children are born with tuberous sclerosis. These children inherited it from their father. But 60-percent of cases are not inherited from a family member."
Right now the disease has no cure. Until one is found, families just have keep a close watch on their children's health and hope for the best
Next weekend, the tuberous sclerosis alliance will hold their first ever Walk-a-thon to raise money for research and family support programs.
×
Most recent Utah stories