Estimated read time: 5-6 minutes
This archived news story is available only for your personal, non-commercial use. Information in the story may be outdated or superseded by additional information. Reading or replaying the story in its archived form does not constitute a republication of the story.
The National Weather Service has issued a flash flood warning for North Central Utah County, beginning at 10:55 pm, Thurs. April 28 and ending at 12:55 am Fri. April 29. A landslide was reported Thursday night in the Cedar Hills area, south of American Fork Canyon. Law enforcement has issued an evacuation in the path of the flood.Team CoverageThe water is going down tonight in Northern Utah, but people are still concerned and the flood warning for the Cache Valley remains in effect until midnight. Tomorrow, the clean up will begin.
"I saw the creek come up around 5:00 this morning and it just kept coming up and coming up and coming up."
In Brigham City, Box Elder Creek is overflowing, flooding everything from playgrounds to basements in nearby homes. In Garland the relentless rain has clogged a sanitary sewer. Now raw sewage is flowing into the Malad River. In Richmond more water worries where the Logan River breached its banks.
As flooding hit Northern Utah, residents in a number of communities moved quickly to limit the damage today. Perhaps hardest hit is the town of Brigham City where homes have been flooded and the Mayor has declared a state of emergency.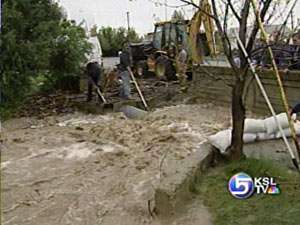 Hundreds of people in Brigham City are filling sandbags while backhoes and crews clear debris. The water has been rising and it's a race against time.
Early this morning Utah's flood fears came true with a vengeance after heavy rains filled up Box Elder Creek. By late afternoon Linda Kay's basement had flooded and her backyard looked like the neighborhood swimming pool.
Linda Kay: "My biggest fear now is that where they've got the sandbags, that they will break and if it does we'll probably lose everything we have in the basement."
In all, two families have been misplaced and seven homes suffered serious to moderate flooding. Numerous backyards adjacent to the creek were under water.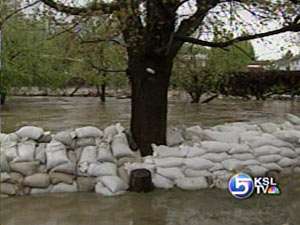 With deep snows in the mountains, residents here have been concerned about flooding this spring. But the speed and the magnitude of today's deluge took them by surprise.
Louie Martinez: "It hasn't done this for a lot of years."
Michael Olson: "I didn't expect this. I saw the current come up about 5:00 this morning and just kept coming up and coming up and coming up. It's amazing though to see all the people come and help. We've had probably a few hundred people here this morning helping out."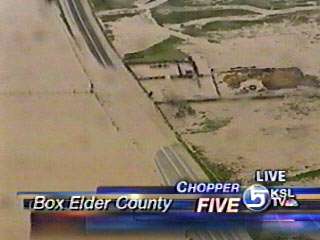 By mid-afternoon emergency crews were stretched to the limit and Brigham City's mayor declared a state of emergency.
Mayor Lou Ann Christensen: "I think the concern we have here though, is the increasing rain and the forecast for more rain."
The volunteer effort has been impressive. Numerous government agencies and community groups have pitched in filling countless sandbags. The neighborly generosity has not gone unnoticed.
Linda Kay: "I can't believe how many people turned out. It's just been amazing."
Two things are really striking here: the number of people that have turned out to help, literally hundreds and hundreds of people; the other thing is the water is moving fast. It is moving very quickly and people should stay away from it.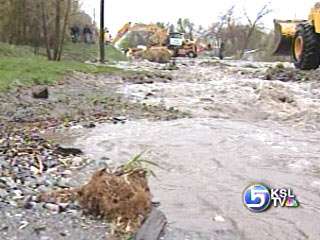 The flooding problems extend further north into Cache County where a flood warning is in effect until midnight. The worst hit area is in Richmond.
The problems in Richmond don't seem to be getting any better. One road is now a river through town, two canals that meet up near the hill run into one canal that is flooding over. But the quick response from volunteers has kept several homes from taking on too much water.
One farmer is giving up expensive one-ton hay bales, to keep flood waters from homes downstream.
Lt. Matt Vilodvau, Cache County Sheriff's Dept.: "Been able to keep homes out of jeopardy
After a night of constant rain people were up early this morning doing anything they could to stop the flooding.
Josh Coleman, Home in Danger: "A lot of nice people in this world, a lot of nice people. They came from everywhere."
One of those volunteers is Marion Campbell, who came from Hyde Park to lend a hand.
Marion Campbell, Volunteer: I just knew if it was my house I'd want some help. I just thought it was a way I could help the community. I knew I could shovel sand and fill sandbags so I came."
Others who pitched in are there to help their neighbors.
Clarke Alder, Volunteer: "I just live up the street. If anything happens they'd be up there."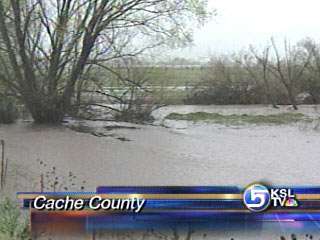 The potential for problems exists all over Cache County. The Logan River is already running over its banks in places and the flood crest is still several hours away. And after years of drought, the high water is washing down all kinds of debris into the creeks and rivers. Crews are working hard to keep the old logs and branches from clogging up bridges and culverts that could cause serious flooding.
Lt. Matt Vilodvau: "We're just trying to prepare for the long haul, prepare for the worst and hope for the best."
It's a situation that in many ways is now out of anyone's control. The flood warning has people here knowing that it may be tomorrow before they are out of the woods for flooding.
The rain was a steady pour all evening in Salt Lake City too.
Flood waters washed over 400 West near North Temple. That's the area where City Creek flows underground towards the Jordan River.
Leaves, sticks and other debris apparently clogged the aquaduct and the water backed up into the street.
Farther south a boater saw a perfect excuse to put his canoe into a makeshift pond right on Main Street!
×
Most recent Utah stories