Estimated read time: 1-2 minutes
This archived news story is available only for your personal, non-commercial use. Information in the story may be outdated or superseded by additional information. Reading or replaying the story in its archived form does not constitute a republication of the story.
Tonya Papanikolas ReportingCustomers of a South Salt Lake auto body shop are wondering who's going to pay for the damages after a huge fire destroyed the building and the cars this morning.
Investigators say the fire started at Eagle Body and Paint from an electrical short in the air compressor room. It's not known for sure, but the compressor may have been left on over the weekend, and it turns out the shop was operating illegally. They'd been there six months without a business license, which means they'd never had a proper inspection.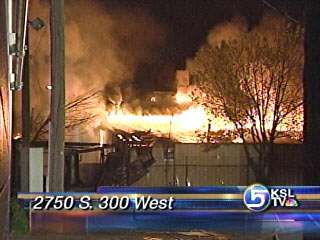 Just before 4:00 Monday morning an officer was driving by and saw the fire. Crews arrived to flames shooting into the air. Fire crews had to cut down part of a fence to get into the auto body shop, but because gas tanks were exploding and tires were bursting, they had to retreat and attack the blaze from the air.
After a while the bright orange flames turned to billowing gray smoke. Crews were eventually able to put the fire out, but unfortunately, the roof collapsed and everything inside was damaged.
A father and son had a van at the shop.
Dee Workman, Customer: "A Toyota Previa van that has been there for months, and after getting all the parts, he finally told us that it would be ready this week. We hope that he has good insurance and that we're able to replace it."
Josh Atwood, Western States Auto: "There's probably 25-30 classic cars in there -- a lot of money."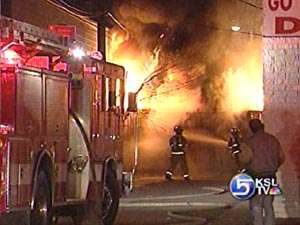 The damage is approaching half a million dollars. And the real question is, who's going to pay for that damage? It's unknown if this company had insurance.
×
Most recent Utah stories