Estimated read time: 2-3 minutes
This archived news story is available only for your personal, non-commercial use. Information in the story may be outdated or superseded by additional information. Reading or replaying the story in its archived form does not constitute a republication of the story.
Keith McCord ReportingWith all the flooding going on throughout the state this spring, there's been a lot of reference to the bad floods of 1983. And as we got to looking at it, there are a lot of similarities.
Call it deja vu all over again! In 1983 the earth moved in several places in Utah; mud buried homes in Farmington; and in Utah County, a whole mountainside became saturated, covering highways and rail lines. Turn the clock ahead 23 years to this week, Utah County again--Cedar Hills subdivision, a section of a hill a thousand feet long, backs up against a row of townhouses.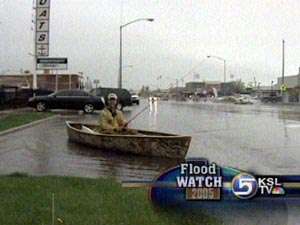 In '83, rivers and creeks angrily churned a chocolate brown color, spreading debris all over, and rivers overflowed their banks. In '05, the scene looked the same in Cache County; fields flooded, roads impassable; basements full of water.
In '83, volunteers came out by the thousands-- filling probably hundreds of thousands of sandbags. They were back again this year, coming to the aid of friends, neighbors, and even complete strangers.
Through the mess of it all was humor. On Main Street last week one man brought out his boat and had fun pretending to fish. Well, it happened in '83 too, along the make shift State Street River. But back then there WERE trout swimming around! One of them gave Alma Allred his 15-minutes of fame. A photo of him holding a fish was printed in newspapers coast to coast.
Alma Allred: "I saw this rainbow trout rolling down the river, iIreached out for it, but another guy got to it before I did. I asked him what he was going to do with it, and he said, 'I've got to go to school,' so he gave it to me, and I got famous."
And what'd he do with the fish? Took it home and ate it.
×
Most recent Utah stories