Estimated read time: 3-4 minutes
This archived news story is available only for your personal, non-commercial use. Information in the story may be outdated or superseded by additional information. Reading or replaying the story in its archived form does not constitute a republication of the story.
Ed Yeates reporting Tiny electronic chips implanted in the brain of a 25 year old man can read his thoughts, then transform what he thinks into actually doing things outside his body.
Mind boggling? Actually, it's just the beginning.
For the first time, hair thin electrodes that were built inside a lab here in Salt Lake are now inside the mind of a 25-year old quadriplegic in Boston.
His mind moves matter. And others like him will soon follow.
Matthew Nagle can turn lights and his television on and off, adjust the channels and volume, control his computer and read his e-mail, all by just thinking about it.
Matthew Nagle: "I can't put it into words. I use my brain. I just thought it. I said to the cursor, go up to the top right, and it did. And now I can control the vid all over the screen. It's wild."
Wild may be an understatement.
The 25-year old is using his mind to do things he hasn't done on his own since a knife attack left him paralyzed from the neck down four years ago. 100 hair thin electrodes implanted a millimeter deep in the motor cortex of his brain are picking up the same thought signals that would have been sent to his arms and hands. Now, they're being converted to make computer controlled objects do the same thing.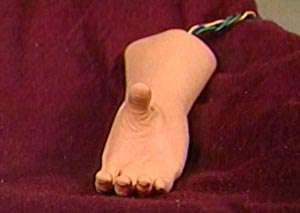 Matthew continues, moving a prosthetic hand - again by just thinking about it.
While Cyberkinetics, which designed the implant for Matthew, builds its own electrodes in a clean room lab at the University of Utah's Research Park, researchers across campus are designing others for other experiments.
This is where the microchips are fabricated. But with this new research now unfolding rapidly, labs like this are only going to get bigger and better.
Richard Normann, Reed Harrison, Florian Salsbacher, and their colleagues are looking at implants NOT only for the brain but for peripheral nerves - nerves which still may carry messages even after a limb has been severed.
These electrodes will interface not just one but ALL of the fibers inside a nerve.
Dr. Richard Norman, University of Utah Bioengineering: "The person will look perfectly normal. The implant system will be powered wirelessly and signals will be sent from the implanted system to the outside world wirelessly."
The Defense Advanced Research Projects Agency - dubbed DARPA - is so intrigued with the possibilities, it's now challenging researchers with big bucks to develop implantable electrodes and prosthetics that border on science fiction.
Normann: "Basically, the recreation of a human arm."
"The ultimate goal of this request for proposal is to have an individual, an amputee, be able to play a piano, to be able to fret a guitar, and to be able to thread a needle."
Unbelievable, perhaps unreachable, but that's how far researchers are being told to push the envelope. Researchers do believe these new implants might even dispatch signals to the body's own muscles, cut off from a spinal cord injury.
×
Most recent Utah stories